HAPPY 2020 New Jersey Nurses!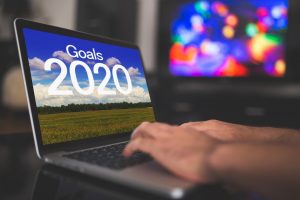 As we continue to promote HEALTHY Nurses, the Healthy Nurse Healthy New Jersey Team will continue to help you with some great health tips throughout the year. We will focus on many important themes in 2020, including the benefits of meditation, legal and professional health, healthy eating and on HAPPINESS; the list goes on. We will also follow ANA's Healthy Nurse Healthy Nation Grand Challenge (HNHN) and refer to their monthly challenges. HNHN is starting the year off by encouraging self-care techniques to stress less. Join HNHN for free and fill out your personal Healthy Nurse Survey. This will help you to determine if your self-care interventions are working to make you healthier. HNHN has lots of great resources to help you become healthier. To join the HNHN Grand Challenge, click here.
There are many triggers for stress, but for nurses, the workplace usually tops the list. This may be due to a heavy workload, having lots of responsibility, not knowing how to say "no" and unclear expectations for the work shift. Working too many hours causing a disruption in work-life balance may also contribute to poor health.
How do you know you are stressed? You are stressed if you have experienced several of the following symptoms on a continuous basis in the past 30 days:
Headaches
Upset stomach; "butterflies" in your stomach
Sleep problems such as difficulty falling asleep, waking early and inability to fall back to sleep
Having trouble concentrating
Feeling overwhelmed
Shortness of breath, chest discomfort with possible heaviness and/or pain
Feeling easily fatigued
How can you reduce stress? Here a just a few simple stress reduction techniques:
Try a deep breathing exercise
Let go of unrealistic expectations and perfectionism
Delegate tasks in the workplace
Exercise
Meditate
It's okay to cry!
Walk it out! It's best if done outside. Take a deep breath with every step you take and focus on being grounded.
Repeat a positive phrase as you walk, such as "this feels good."
Try journaling. Write about three good things that have happened to you in the course of your day.
Don't sweat the small stuff!
Laugh, live and love!
We wish you peace as you stress less!
Saundra Austin-Benn and the Healthy Nurse Healthy New Jersey Team
References:
Orel, G.(2019, December 15). To your health: Eat a rainbow and reduce stress. Retrieved Jan. 21, 2020 from https://www.montclairlocal.news/2019/12/15/to-your-health-montclair-nj-holiday/
Stress management Stress basics. (2017, March 31). Retrieved Jan. 21, 2020 from Stress management Stress basics