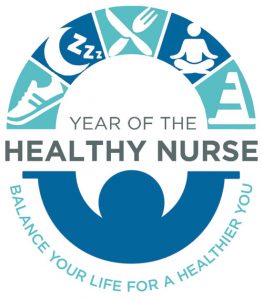 Healthy Nurse Healthy Nation-NJ
Nurses are role models, educators, and advocates for health and healthy living, and in 2019 we will focus on the importance of self-care for nurses. To help the Garden State's 125,000 registered nurses become their healthiest, NJSNA is excited to continue its partnership with the American Nurses Association (ANA) for the Healthy Nurse, Healthy Nation (HNHN).
ANA's HNHN is a sweeping social movement to increase the health of the United States' 3.6 million RNs, thereby impacting and improving the health of the nation. HNHN focuses on five fundamental indicators of wellness: rest, nutrition, activity, quality of life, and safety. It also includes the continuation of #FitNurseFriday. Check out the PowerPoint for tips!
THE YEAR OF THE HEALTHY NURSE continues in New Jersey for 2019.
Do you want to eat healthier, be more active, get better sleep, and have more joy? This is your year! NJSNA will continue with the "Year of the Healthy Nurse in recognition of the impact that increased nurse health, safety, and wellness has on patient outcomes, quality of care, and overall nurse satisfaction and quality of life," The ANA 2016 Health Risk Appraisal shows alarming trends for registered nurses (RNs) and nursing students:
An average BMI of 27.6 (overweight)
12% have nodded off while driving in the past month
Only 16% eat the recommended daily amount of fruits and vegetables
Less than half perform the recommended quantity and time of muscle-strengthening exercises (ICG & ANA, 2016)
Thus, the goal of Healthy Nurse Healthy Nation – New Jersey (HNHN-NJ) is to improve the Quality of Life: Mind, Body and Spirit of New Jersey nurses. To help achieve this goal, take advantage of tips and best practices from NJSNA members in the Healthy Nurse Toolkit.
The theme for NJSNA Healthy Nurse Health Nation is mind, body and spirit. Busy professionals can sometimes forget to take care of themselves. Connecting with spirituality is essential in strengthening one's own inner strength and peace. This is important because nurses touch the lives of so many others. Download: HNHN Spirituality & Fitness
Moral Distress and Moral Resilience
Nurses encounter many situations in their workplace that can cause moral distress. Moral distress is defined by an inability to act in alignment with one's moral values and is characterized by feeling powerless and victimized, experiencing burnout, and experiencing physical symptoms. Learn more about moral distress and how to cope with it. Download: HNHN Moral Distress and Moral Resilience
Mental Health and Wellness
As nurses, who continually care for the physical, emotional and spiritual health of others, it is imperative that we attend to our own mental health and well-being. Mental health impacts every part of our daily functioning, from sleep and appetite to cognition and attention to our mood and even our behaviors and interactions with others. Learn more about mental health and its impact on nursing. Download: HNHN Mental Health and Wellness.
Stress
With all these things, nurses deal with a lot of stress, and the Healthy Nurse Team has compiled a tip sheet for dealing with stress. Download: HNHN Stress
Dealing with Food Sensitivities and Healthy Eating/Healthy Holidays
There are many nurses out there who need to eat a special diet. Some nurses have food allergies or are gluten-intolerant and dairy-free. Is it possible to make delicious holiday meals without sacrificing flavor and fun? Here are tips and an extensive resource guide to help those of you who eat a special diet. Download: HNHN Healthy Eating Healthy Holidays
Nutrition
Nutrition is vital to being a healthy nurse. Its' not always easy to squeeze all the food groups in, but the Healthy Nurse team has put together some tips to help. Download: HNHN Nutrition
Skin Health
Don't have time for intensive skin care? You can still pamper yourself by acing the basics, learning tips, treatment options and ideas on repairing sun damaged or stressed skin and checking your skin for signs of symptoms of skin cancer. Download: HNHN Skin Health
Healthy Sleep
"A good laugh and long sleep are the two best cures for anything." Irish Proverb
With healthy sleep, we can be a healthy nurse and achieve balance. Learn the basics of good sleep habits, especially when working irregular shifts. Download: HNHN Healthy Sleep
Join HNHN-NJ by taking the pledge:
PLEDGE:
Throughout 2019, I pledge to participate in the Healthy Nurse Healthy Nation – NJ (HNHN-NJ) initiative by doing the following:
Making one specific goal to improve my Quality of Life: Mind, Body and Spirit
Reading the HNHN-NJ emails
NJ Nurses, post photos of yourself taking Healthy Actions. Post your HEALTHY NURSE photos on Facebook and Twitter. Join our Facebook group for support and help your fellow nurses achieve their health goals. Use hashtags #NJnurses #FitNurseFriday #HealthyNurse in you social media postings.
To join Healthy Nurse, Healthy Nation: PLEASE DOWNLOAD DIRECTIONS HERE
To learn more about the national initiative, visit www.healthynursehealthynation.org/
Resources

New Jersey Collaborating Center for Nursing 
The New Jersey Collaborating Center for Nursing is the New Jersey nursing workforce center that works on behalf of nurses to provide evidence-based recommendations regarding the nursing workforce and its impact on patient care.  NJCCN delivering Leadership, Education, Research, and Innovation for a strong nursing workforce dedicated to quality care for New Jersey citizens.  www.njccn.org