Students Assist with COVID-19 Vaccinations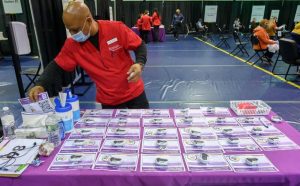 Thousands of South Jersey residents are receiving COVID-19 vaccinations thanks to the volunteer service of Rutgers University‒Camden nursing faculty and students who have been on the front line of this massive effort since New Jersey began receiving doses of the vaccine in January.
Nearly 400 Rutgers School of Nursing‒Camden students are assisting at the Camden County vaccination center in Blackwood, checking in community members, answering questions, and administering the Moderna vaccine.
Most of the Rutgers–Camden nursing students had been taking virtual classes since the pandemic began, but now they have an opportunity to help contain the virus's spread, while getting hands-on experience and fulfilling clinical rotation and volunteer requirements.
"I was emotional after administering the vaccine for the first time because I have seen personally how sick the infected can get," says Anastasia Dudzinki, a senior nursing student from Franklin Park. "The vaccine feels like the first rays of sunshine after months of rain."