More Students Assist with COVID-19 Vaccine Effort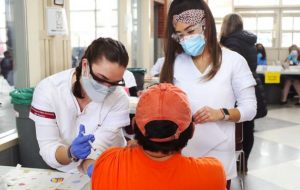 What do you do when you have a sudden surge of hundreds of Trenton area residents who were prioritized to receive the COVID-19 vaccine and a limited number of healthcare professionals to administer their injections? You call in reinforcements.
That is precisely what the Trenton Department of Health did when they mobilized Thomas Edison State University W. Cary Edwards School of Nursing staff and students to help administer the vaccine on Wednesday, Feb. 3, to hundreds of local residents.
"It was a communal effort to be sure and a lot of scrambling in the 48-hours leading up, but the system ran flawlessly once it fell into place," said Yvette Graffie-Cooper, MPH, Public Health Officer for the City of Trenton, who helped marshal the nursing students and staff in administering the vaccine. "The vaccine, which had been in transit to the Trenton Fire Department's Perry Street location, was stalled in Kentucky during the winter storm, but we managed to receive the 400 doses needed from St. Francis Medical Center an hour-and-a-half before the first recipients began lining up for their doses on Wednesday."