FEBRUARY 2021: LOVE YOURSELF!!!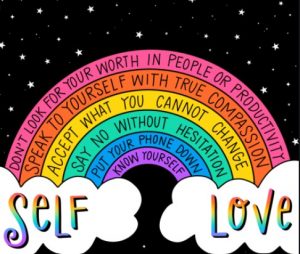 Happy February, Healthy New Jersey Nurses!
For most, mid-February brings images of love, chocolate, flowers, romantic dinners and red hearts everywhere! Whether you are single, in a romantic relationship, or somewhere in between, the best news is these things are for each and every one of us! February is a month where we can lean into loving not only those around us, which we do so well as nurses, but it's also a great opportunity to show ourselves some love! As men and women of the nursing profession, we've become pretty conditioned to put ourselves last. We take care of our patients, their families, and our coworkers. Then we go home and take care of our own families—often whether or not we live with them. Sometimes we forget to leave enough gas in our tanks to take care of ourselves.
One of the biggest lessons that I believe most of us learned from 2020 and the COVID-19 pandemic is that life can be very unpredictable. We have to make our physical and emotional health a priority if we expect to have the strength to persevere.
At the beginning of the pandemic, my brother commented, "Everyone is saying we are all in the same boat. We are not all in the same boat. We are all in the same storm!" And COVID-19 definitely made us look at how we are building our boats!
Are you taking the time to rest and recover when you have tired legs and an aching back?
Are you carving out the time to move your body in whatever way feels good and makes you smile (and maybe even work up a sweat?!)
Are you planning out your meals for the week, so that you don't find yourself grabbing the donut that someone's family brought into work? Planning out your meals helps keep you on track with your nutrition and weight loss/maintenance goals for 2021. (YOU ARE WORTH THE TIME!)
Are you nurturing your relationships with your loved ones, even if you cannot physically be with them now? Luckily, technology has made it possible.
The American Nurses Association Code of Ethics for Nurses includes Provision 5, "Duty to Self and Others:"
"The Nurse owes the same duties to self as to others, including the responsibility to promote health and safety, preserve wholeness of character and integrity, maintain competence, and continue personal growth and professional growth." (​American Nurses Association, 2015, Provision 5, page 19).
The thing is, my fellow nurses, we have SO much love to give! It's who we are at the core. We don't think twice about how much love we give to those around us…but when we turn the mirror on ourselves, we often find ourselves feeling "guilty" for taking the time to tend to our own hearts and souls.
I think that February is a great time to remind us that WE ARE WORTH IT, TOO!!! We are worth being taken care of. We are worth keeping ourselves in good physical health (we're nurses for goodness sake! We were called into a profession where people look to us as role models for good health)! We are worth doing routine check-ins with our mindset, being present for ourselves. For example, asking: "What are my feelings right now? What am I thinking about the future? Are these thoughts serving my bigger purpose of making my mental health just as much of a priority as my physical and spiritual health?"
Please enjoy this article on ways to express self-love.
And this self-love themed yoga session.
Happy belated Valentine's Day, and just remember, you can be your own Valentine every day of the year!!!
Enter our NJ Healthy Nurse contest! One lucky nurse will win a self-care package. Write to healthynurse@njsna.org and let us know how you LOVE you.
With lots of love,
Katie M. Carroll, BSN, RN and the Healthy Nurse Healthy New Jersey Team
References:
American Nurses Association. (2015). Code of ethics for nurses with interpretive statements.
Khoshaba, D. (2012, March 27). A Seven-Step Prescription for Self-Love. Psychology Today.
Yoga with Adriene. (2017, November 19). Self-Love Yoga/Full Class/Yoga with Adriene. [Video]. You Tube.