Nurses Can Fill Gaps In Primary Care — If Trenton Lets Them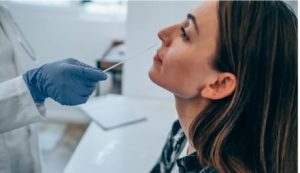 New Jersey is projected to face a shortage of physicians in coming years. In fact, the problem is particularly dire in The Garden State — with a projected shortage of more than 1,000 physicians. New Jersey is one of 12 states with this large of a deficit.
Without enough providers, it won't matter if patients are insured or not. Patients will face delays getting access to primary care when they need it. Failing to diagnose and treat conditions in a timely fashion puts the lives of New Jersey citizens at risk.
Thankfully, the New Jersey legislature is considering an important reform that can help address this challenge.
S1522 — and companion bill A2286 — allows nurse practitioners to work to the full extent of their highly specialized training. Nurse practitioners are nurses with advanced training—masters or doctorate degrees—that are more than capable of caring for New Jersey patients.
Today, the majority of states — 26 and the District of Columbia — allow nurse practitioners to work to the full extent of their training. In 2021, Delaware enacted full practice authority. New York made the same change last year. Both states are now reaping the benefits and New Jersey is being left behind.
Current New Jersey law requires nurse practitioners to enter into joint protocols with a collaborating physician. Joint protocols are an administrative burden to physicians, nurse practitioners, and patients alike. There is little to no evidence that this hurdle improves the quality of care that patients receive.
To see this, we can look to research and outcomes in the 26 states that have already enacted reform. My colleague Kihwan Bae and I synthesized the economics and health policy literature on the effects of nurse practitioners receiving full practice authority in a book chapter recently published by the Upjohn Institute.
Here is a summary of what we found: Nurse practitioner full practice authority increases the frequency of routine checkups and people that report being in excellent health. It is also found to reduce poor mental health and associated mortality. And all of this comes with no increase in cost and almost no evidence of a reduction in quality. In fact, some research finds evidence that the cost of well-child care decreases.
It should also be emphasized that none of the 26 states that have moved to full practice authority have reverted back to a more restrictive regime. States and their citizens do not regret allowing nurse practitioners to do what they are trained to do.
With all of the evidence, it would seem that there would be little to no opposition for this reform. A costless way to increase the supply of primary care providers might seem like a slam dunk. However, some are fearful of change. Some physicians would like to maintain the status quo.
Physicians should not be fearful. Nobody is making the claim that nurse practitioners can replace physicians. Nurse practitioners should not be seen as competition—full practice authority does not seem to hit the average physician in their pocketbook. Instead, nurse practitioners are filling in the gap, reaching patients that physicians cannot reach.
This is what arguments around full practice authority should be about—making sure that patients in New Jersey can get access to the care that they need. What is better: New Jersey patients seeing a nurse practitioner, or patients not receiving care at all?
Full practice authority for nurse practitioners allows more New Jersey citizens to get the high-quality care that they need. It doesn't take a brain surgeon to see that.
Edward Timmons is a service associate professor of economics and director of the Knee Center for the Study of Occupational Regulation at West Virginia University.
(This story originally appeared in MyCentralJersey.com.)