Nurse Cared for Baby 33 Years Ago Now Treating His Son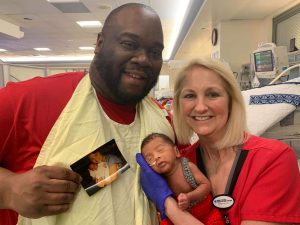 When David Caldwell pulled his own baby book out from storage, a week after his son Zayne was born, he never expected to see a familiar face in the old photo: his son's NICU nurse.
Lissa McGowan, a nurse in the neonatal intensive care unit at Saint Peter's University Hospital in New Brunswick, had helped take care of Caldwell when he was born in November of 1986, six weeks early.
Decades later, she also helped take care of Caldwell's son, who was born in the same hospital and was also born prematurely—10 weeks early.
The coincidence—deemed "fate" by Renata Freydin, Caldwell's fiancée and Zayne's mom—was noticed by Freydin, after Caldwell unearthed his baby book to compare what he looked like to the couple's child.
"I was looking through the photos and noticed right away, a picture of him and Lissa," Freydin said. "I started freaking out."