No One Should Die Alone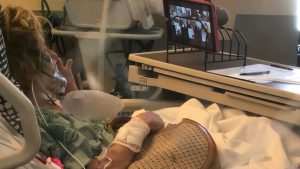 Nurses have been assisting patients to connect with family members by tablets or mobile phones, or in many cases filling in as surrogate family at the time of death.   recent initiative, Frontline Nurses Wiki Forum, discovered that this has been a major source of distress for many nurses.
Some hospitals do seem to be loosening up a bit because of the recognized detrimental impact of isolation on patients and families and the stress on staff. And there are stories of nurses who have worked around rules (as nurses have always done when they felt patients would benefit) and snuck family members in for quick goodbyes.
Terry Siek, vice president of patient care/chief nursing officer at the University of Kansas Health System in Hays, Kansas, reported that his institution has developed a policy of "limited visitation with compassion" and allows family members to visit COVID-positive patients at the end of life. They have opened up visitation to other patients, too.
"We allow one visitor per day for non-COVID patients," Siek said. "They are required to wear a mask the entire time they are in the facility. They can switch out visitors but the switch out must occur outside the building."
Maureen Swick, senior vice president and enterprise nurse executive of Atrium Health in Charlotte, NC, said, "Emotional support is a vital part of the healing process and we have worked hard to make it possible for our patients to have one visitor with them during their stay with us. When we have patients who are COVID-positive, this becomes more challenging. As long as our personal protective equipment supplies remain stable, we are committed to helping our patients be with a loved one when the end is near."
Planetree, a network of organizations and facilities that embody a philosophy of person-centered care, has developed Guidelines on Family Presence During a Pandemic with input from myriad groups. It provides criteria for facilities to assess risk and safely provide for family visitation. These guidelines may be helpful to organizations seeking to develop evidence-based policies.