Honoring Heroic N.J. Nurses in the Pandemic: Melissa Plastino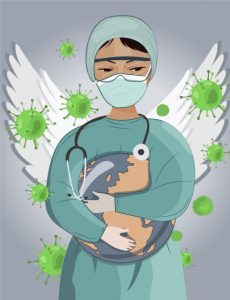 As a Post Anesthesia Care Unit (PACU) nurse
at CentraState Medical Center with many years of
ICU experience, Melissa Plastino, RN-BC returned
to the ICU to help care for the many COVID-19
patients. One morning during in the early weeks of the
pandemic, Melissa received a patient from the Stepdown Unit whose COVID-19
had progressed. He had to be intubated and needed
vasopressors to maintain his blood pressure.
After caring for this patient all day, Melissa was not sure
that he would be alive when she returned in the
morning. When Melissa arrived in the morning she
was surprised to find he would be her patient again.
After receiving report, Melissa made it her first
priority to contact his family. She reached his wife,
informed her that she had a hospital iPhone and
asked if she wanted to FaceTime. Melissa learned
that the patient's wife and his daughter both also had
COVID-19 and thus his son was living elsewhere.
So after making sure the iPhone was fully charged and
the family was available, Melissa put on her PPE and
went into the patient's room. She tried to make this
intubated husband/father look presentable and after
explaining to the family what they would expect
to see, she put the phone on a tabletop tripod and
started the FaceTime. Melissa said, "It broke my
heart seeing the family. I think it breaks my heart
every single day this is happening to people you don't
expect it to happen to. People who are normally
healthy and young. They are dying. I broke down in
the room and cried and cried like I never cried in my
whole career. I don't think I was ever, ever, ever in
my life prepared for something like this. I just felt so
defeated in that moment that I couldn't help them, I
couldn't help him."
During the FaceTime call his wife
asked Melissa to promise, "Please be with him, hold
his hand and tell him I love him." Of course Melissa
promised. After the FaceTime call, the family talked to
the physician about terminally extubating him because
they did not want him to suffer anymore. Melissa was
there when they extubated him and held his hand. As
Melissa held Bob's hand, she prayed the Our Father
and then noticed that the patient's iPhone was nearby.
So she took a picture of her hand holding his hand, in
hopes that they family would see it.
When Melissa was on her way home she received
a text message from another nurse in the ICU. The
iPhone that Melissa used to FaceTime with the family
came back from Sterile Processing with a text from
the patient's son. The text stated, "Hi this is Bob's
son. I hope this is Melissa. I just needed to tell you
that you being with my father when he passed gave
us such relief. We were scared he would be alone and
if you knew my father you would know that family
is the world to him. So you doing that for us means
more than you can imagine. I can't express in words
the gratitude we have for you guys. The way you were
upset for us was just everything and more to us and
we know our Dad felt our love through you. So from
the absolute bottom of our hearts we thank you for
all that you and the rest of the heroes are doing."
We thank Melissa for being an angel for Bob and his
family.