NJCCN Hosts Virtual Symposium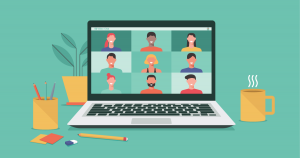 The New Jersey Collaborating Center for Nursing (NJCCN) housed at Rutgers School of Nursing will host a virtual symposium from 10 a.m. to noon on November 17, showcasing the outcomes and experiences of a grant-funded state-wide nurse residency program that launched earlier this year.
In March 2020, with a $500,000 grant, NJCCN launched the state-wide New Jersey Nurse Residency Collaborative in partnership with Vizient/AACN (The American Association of Colleges of Nursing) Nurse Residency Program. More than 185 new nurses in 15 acute-care hospitals across the state are participating in the program's first cohort.
Virtual Event Details
What: The New Jersey Nurse Residency Collaborative Showcase
When: November 17 from 10 a.m. to noon
Complementary Registration: Email Zohar Hasson by November 10
"This type of program was particularly crucial during COVID-19, as new nurse graduates entered the workforce during difficulty times," said Edna Cadmus, executive director of the NJCCN. "This comprehensive program is needed to support over 3,000 new nurse graduates annually.
The program exists to provide tools and support for hospitals implementing a standardized 12- to 15-month nurse residency program for new Registered Nurse (RN) graduates who are transitioning into their first job. Funded through the New Jersey Department of Labor and Workforce Development's (NJDOL) Growing Apprenticeship in Nontraditional Sectors (GAINS) competitive grant, this program has been shown to enhance new nurse retention and patient safety. New nurse graduates participating in the program receive over 144 hours of application education and 2,000 hours of precepted and mentored support.
"We are grateful for the support of the NJDOL Workforce Development, Office of Apprenticeship support," Cadmus said. "We hope to continue to expand the number of hospitals participating in this program."
As members of the collaborative, these 15 facilities have gained access to the Vizient/AACN  Nurse Residency Program curriculum­­­­­––an evidence-based program that focuses on leadership, patient outcomes, and professional roles­­––implementation strategies and tools, and an evaluation process to measure the outcomes of their program. Hospitals will have their own nurse resident data and can then compare their outcomes at a state and national level.
The Vizient/AACN Nurse Residency Program curriculum is used in over 500 hospitals nationally and has been identified by the National Academy of Nursing as a gold standard program.
To learn more about the New Jersey Collaborative Center for Nursing visit njccn.org.