NJ Nursing Student Livestreaming 100-Mile Run For PPE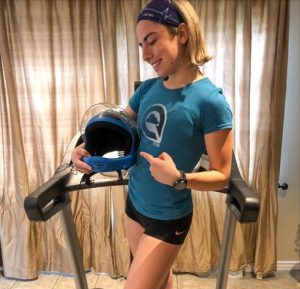 Rachel Belmont is a New Jersey nursing student set to run 100 miles to help provide COVID-19 frontline workers with personal protective equipment.
Along with being a student in an accelerated nursing program at Rutgers University New Brunswick, Belmont is accustomed setting tall goals for herself, including other 100-mile races, as well as skydiving.
This time Belmont is sticking to 100-mile run on a treadmill, and all are welcome to come along for the ride.
"Starting at 6 a.m. this Saturday, I am going to be running on a treadmill," Belmont said. "I'm attempting to run 100-plus miles. I'll be finishing up at 6 a.m. on Sunday morning. I'm just gonna continue to tell people to donate throughout the entire thing. For every $20 that's raised it's gonna generate two masks. One purchased equals one donated."
Belmont knows all too well about how PPE is a top priority for frontline workers.
"I just think its extremely unfortunate that people don't have something as simple as a mask, and maybe as a future nurse, I can't do anything to treat people right now, but I want to at least pitch in and do something and get equipment to people who need it," Belmont said.
If you're interested in joining the livestream, visit Belmont's Facebook page and GoFundMe page.