Sister Nurses Battle COVID-19 Together at NJ Hospital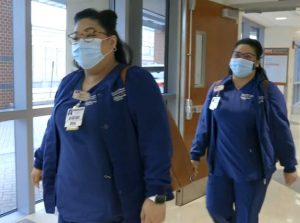 A pair of nurses battling the coronavirus on the frontlines at a New Jersey hospital have a bond that extends beyond profession. They are also sisters.
Junerose Gambito, 33, and her 32-year-old sister Sheikha "Shae" Gambito have nursing in their blood, as both their parents were nurses too. Now, they're fighting for COVID-19 patients at Robert Wood Johnson University Hospital in New Brunswick.
Junerose started at the hospital as certified care technician 13 years ago, while Shae started in the same role a year later. Now, both certified nurses work side-by-side on the 2-Core floor, a cardiothoracic surgical unit for open heart surgery patients.
Despite the family connections, Junerose said that what really drove her to pursue a career in nursing was the profound difference she could make in a patient's life.
"It's not even the big lifesaving moments," she said. "It's the small moments, like washing my patient's hair or shaving their face. There are little things you can do to change a person's day, just even being in the room and having an extra conversation with them."
Shae echoed that sentiment.
"We were put on this earth to be nurses," she said. "I feel in my heart that it is our duty to take care of people."