Letter from the NJSNA President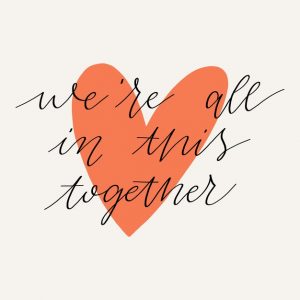 February has many national days. There's national pancake day, almond day, chili day and many more. One that stands out was February 17, otherwise known as National Random Acts of Kindness Day. According to the National Day Calendar, on this day, nothing is too small to be considered a celebration of this day. This could be paying for the drive-thru order for the car behind you, offering a note or expression of kindness, a smile from behind a mask, a friendly wave to a passerby. Yet, we often do not think of a random act to ourselves.
In the midst of this stressful time caring for others, there remains added personal concern for our safety and safety of those closest to us because of the COVID-19 pandemic. In this time of high-risk of illness, the motto "We are all in this together" is offered to help to raise spirits, offer hope and provide a source of strength in an otherwise difficult and challenging time. Take care of your mental health, too, and reach out even if just to not feel alone.
American Nurses Association continues to connect with nurses as a reliable resource for many things, including our own health with Healthy Nurse, Healthy Nation (ANA Enterprise, 2020). We also have the Healthy Nurse Healthy New Jersey committee. The committee offers many topics and chose to highlight February as a self-care month. This simple concept, includes eating healthfully, getting rest through meditation and sleep and finding positivity in our thoughts and self-talk are all acts of kindness to ourselves.
The power of our profession comes from the trust of skillful and dedicated caring, which we give to our patients and communities. As we should be aware, in the ANA (2015) Code of Ethics Provision 5 can be paraphrased this way, "take care of you so you can take care of others!" Simple, but not always easy to do. In a time when health seems to highlight the absence of disease and illness, COVID has made this an especially challenging time. Yet, where there is the feeling of hopelessness, there is hope. Where there are nurses, care for yourself, too.
Thank you for all you do.
Blue skies,
Mary Ellen Levine, DNP MSN RN
New Jersey State Nurses Association President
References
American Nurses Association. ANA. (2015). Code of ethics for nurses: with interpretative statements. Retrieved from https://www.nursingworld.org/coe-view-only
ANA Enterprise. (2021). Healthy nurse, healthy nation. Retrieved at https://www.healthynursehealthynation.org/
National Day Calendar. (2020). Retrieved on February 17, 2021 at https://nationaldaycalendar.com/national-random-acts-of-kindness-day-february-17/
New Jersey State Nurses Association. (2020). Healthy Nurse, Healthy NJ: Pledge. Retrieved at https://njsna.org/healthy-nurse/
The Society of Psychiatric Advanced Practice Nurses. (n.d.). Home. Retrieved at https://www.psychapn.org/