To Be a Nurse Series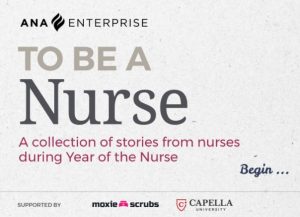 We can't emphasize enough about the importance of storytelling, especially nurses' stories. That's why in celebrating the Year of the Nurse, we've put together the ultimate digital storybook, To Be a Nurse, chocked-full of empowering and uplifting tales and photos from nurses across the nation.
The stories we collected will make you cry, laugh, think and reflect on the true mission of nurses and how each of you make a difference in the world. Here is just one example of the plethora of powerful stories that we will be showcasing:
Christine Garrett, Nurse Educator
My journey as an RN began almost 43 years ago when I received a BSN. I have worked in the med-surg, oncology, ortho and cardiac care units. My first love was cardiology, but my passion is education. To see a new grad finally show confidence in their daily practice makes me proud. I had a new graduate who had to put in an NG tube for the first time. We practiced in the skills lab and I remember telling her, "You got this!" She went in and dropped the NG tube like an old pro—it was a great moment for both of us.
Working in a smaller hospital requires me to wear several hats. I am also stroke coordinator. I go to each stroke alert to support not only the staff but the patient as well. Over the course of months and much education and training, I can see how the staff has mastered what to do when a stroke patient comes thru the ER doors. It has become a seamless process, and I am proud to say we have recently received our recertification as a primary stroke center.
Our hospital is also a Certified Chest Pain Center and I get to use my cardiology skills running mock STEMI codes at my hospital and other hospitals within our system. These mock codes teach residents and nurses what to do when a patient presents with chest pain. Time is muscle with these patients and having well-versed nurses is imperative to the patient's well-being. Patients need to be treated with a holistic approach and not as a diagnosis. The educational opportunities I create are based on this approach.
We hope that this as well as many of the other stories in the To Be a Nurse series, inspire you. Better yet take a minute and share your own story of what it is like to be a nurse. You just might inspire a future nurse and/or colleague.
To read the full digital story book, click here.