How To Ease the Nursing Shortage in America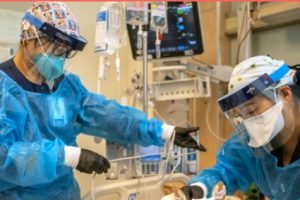 (Editors Note: The following is an excerpt of policy recommendations from a special report on AmericanProgress.org.)
Federal policymakers must devise sustainable, long-term solutions to today's nursing shortage and ensure that the education and health care systems are better prepared to mitigate and address any future shortages. The recommendations in this report are designed to reach the goals of increasing the number and diversity of nurses entering the profession and creating a standing structure to address current and future changes to supply and demand in the nursing workforce.
Expand the capacity of educational institutions to enroll and graduate nurses while improving access and outcomes for student nurses of color and overall population health
Congress should pass the Future Advancement of Academic Nursing (FAAN) Act (H.R. 851/S. 246).99 This bill would award competitive grants to nursing schools to enhance nursing education programs and expand their capacity to respond to public health emergencies, while prioritizing historically Black colleges and universities, tribal colleges and universities, other minority-serving institutions, and regions with low numbers of medical professionals. This legislation could address the enrollment and retention of nursing students from disadvantaged backgrounds, increase hiring and retention of diverse faculty, modernize school infrastructure, expand clinical education, and more.
Congress should pass the Black Maternal Health Momnibus Act of 2021 (H.R. 959/S. 346), aimed at addressing the United States' maternal mortality crisis and eliminating racial disparities in maternal health outcomes.100 One bill in this legislative package aims to grow and diversify the perinatal nursing workforce—professionals who care for women during pregnancy, labor and delivery, and the postpartum period—by providing scholarships to students who plan to practice as nurse practitioners and clinical nurse specialists in areas of maternal and perinatal health.
Congress should increase funding for programs authorized under Title VIII of the Public Health Service Act. Nursing advocates across the board have supported $530 million in funding for nursing workforce development included in this proposal.101 This legislation is a critical source of loan repayment and scholarships for nurses; loans for nursing faculty development; and grants for advanced education, increasing diversity, and improving outcomes for nurse education.
Congress should also provide funding to help nursing schools pay for capital projects, such as buildings, laboratories, and equipment. One new potential avenue, the Community College and Industry Partnership Grants program, was proposed in the House-passed Build Back Better Act.102 It would make $2 billion available for boosting workforce training in high-demand sectors, including nursing. Community colleges could spend the competitive grant dollars on specialized equipment as well as making general investments in nursing programs, including improving policies and programs that help community college students transfer to universities and reducing the cost of tuition.
Federal and state actors should introduce new proposals to expand clinical placement capacity and fund pathways from ADN programs to BSN programs
Congress should directly fund clinical placements for nursing students from historically disadvantaged backgrounds and for those at underfunded higher education institutions. One strategy to achieve this outcome would be to reinstate and expand the Graduate Nurse Education (GNE) pilot, authorized and funded through the Patient Protection and Affordable Care Act (ACA) in 2010.103 Through this demonstration project, from 2012 to 2018, the Centers for Medicare and Medicaid Services (CMS) paid hospitals to increase their clinical education slots and take on more advanced practice registered nurses (APRNs) than they normally would. Researchers found that this investment enrolled 89 more students, graduated 35 more APRN students per school of nursing, and strengthened long-term partnerships between nursing programs and clinical placement sites.104 Future reinstatement and expansion of this demonstration project should expand eligibility to undergraduate nursing students, allow flexibility in terms of payment structure and clinical site, and prioritize underserved student populations.
Congress, state legislatures, and employers should invest in pathways and support services, such as transportation and child care, to help nurses with an ADN obtain a BSN. They should also help workers in health care support roles, such as licensed practical nurses and certified nursing assistants, transition into registered nursing. These upward transitions facilitate greater wage gains for workers, particularly more diverse health care workers that dominate low-wage health care roles—and meet growing employer demand for BSNs.

To start, governments and employers should fund the schooling required for an ADN-prepared nurse to earn a BSN. For example, Beth Israel Lahey Health in Boston is funding the ADN to BSN transition in order to diversify its nursing workforce.105 ADN to BSN programs lend themselves well to registered apprenticeship models that combine classroom instruction and on-the-job training, and U.S. Department of Labor procurements should explicitly call out and prioritize proposals dedicated to expanding apprenticeship into the nursing profession and related support services, thus meeting market demand and affording students access to a degree and on-the-job learning.106 State policymakers should also consider authorizing more BSN programs at community colleges, which are typically more accessible to historically underserved students and cheaper than universities.
Create standing bodies to document and advise on issues of recruitment, training, and retention
Given how significant nurses are to the lives of millions of Americans, factors affecting the likelihood that individuals will enter, stay in, or leave the nursing profession require constant monitoring and response. A permanent body must be authorized to document the state of the nursing workforce and advise on policy solutions to address challenges. This body should be able to connect and respond to both pipeline and education issues, as well as matters of workplace conditions.
At the federal level, Congress should fund the National Health Care Workforce Commission, initially authorized by the ACA in 2010. Although members were appointed in 2010, Congress has never appropriated funding to make the commission operational.107 However, there has been continued congressional interest in funding the commission. For example, $3 million was appropriated as part of the fiscal year 2022 House Appropriations Bill for Labor, Health and Human Services, Education, and Related Agencies and passed by the House of Representatives,108 though it did not make it into the final language signed into law. A fully staffed and funded National Health Care Workforce Commission could work in tandem with health care workforce professionals, educational institutions, payers, researchers, consumer representatives, labor unions, workforce development boards, and federal agencies such as the Health Resources and Services Administration to document and advise on the state of the health care workforce, particularly nursing, and would be critical in times of high demand for health care professionals.
Further, Congress should fund and deputize state-level nursing workforce organizations to address state-specific nursing shortages. Many states have nursing workforce centers, organizations that typically work to develop and share best practices in nursing workforce practice and policy,109 but they do not always have a direct mandate to inform state government decisions on educational pipelines or workplace conditions. A set of state-level organizations with a consistent mandate, and a reporting structure to a national commission, such as the Health Care Workforce Commission, would be able to advise on state-level nursing shortages.
Conclusion
Nursing shortages have been a facet of American life for decades, and the COVID-19 pandemic will not be the last time that the United States struggles to maintain an adequate nursing workforce. Major investments of federal funding and sustained coordination are needed to mitigate the impact of nursing shortages and improve the nation's ability to respond.
If policymakers at all levels think more ambitiously about solving the nursing shortage and improving racial equity, more workers will have equitable access to a high-quality, well-paid profession; more patients will have equitable access to high-quality nursing services; and a healthier population will have better educational and life outcomes and be able to build stronger communities.
(This story originally appeared in AmericanProgress.org.)