Amid Shortages and Burnout, Could Adding More Men Ease the Nation's Nursing Woes?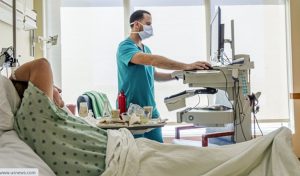 Jonathan Caesar always thought he would follow in his brother's footsteps by pursuing a career as an attorney in Las Vegas. But he began to have a change of heart a few years ago, when he started to develop a greater interest in human anatomy while training in mixed martial arts.
"We have [auto] mechanics, and you can put so much work into cars," Caesar says. "Why wouldn't you want to know the inner workings of the body and take care of the most important vessel on earth?"
As a male looking to enter the nursing profession, Caesar is an outlier, but he's not alone: Now in his third year as a student at Arizona College of Nursing's Las Vegas campus, Caesar says he's noticed more men in the student body at his school than there were when he began, with the number in his own cohort growing from just himself and two others initially to now six or seven.
That type of uptick bodes well for a profession that is overwhelmingly made up of women, yet has seen a slowly rising share of men in its ranks over the past decade. Data from the U.S. Bureau of Labor Statistics indicates just 8.9% of the country's 2.7 million registered nurses in 2011 were male. By 2015, men accounted for 10.6% of a workforce approximately 3 million strong.
Last year, the data indicates, 13% of the country's 3.2 million registered nurses were male.
Still, experts say more needs to be done to increase male representation in a profession grappling with shortages and stressors exacerbated by the COVID-19 pandemic.
"Men have been historically underrepresented in the nursing profession, and the nursing workforce should reflect the patient population," says Ernest Grant, president of the American Nurses Association. "Encouraging more men to enter the nursing profession can help address the current nursing shortage crisis by not only increasing the quantity of nurses, but also the quality of patient care. More men in nursing provides a more diverse group of health care providers and advocates for patients across all genders and ethnic and racial backgrounds."
Jason Mott, an associate professor and director of the pre-licensure program at the University of Wisconsin–Oshkosh's College of Nursing, agrees that "recruiting more men into nursing could ease the nursing shortage."
"Nursing is typically not a career choice that is offered to men," Mott says, and consequently, "most of the females who want to do nursing are already doing it."
About 14% of entry-level baccalaureate nursing program graduates were male in 2020, according to data from the American Association of Colleges of Nursing. That marked the same percentage as in 2015, though higher than the roughly 11% in 2010.
Scott Kelnhofer, executive director of the American Association for Men in Nursing, says the average percentage of men enrolled in the nation's largest undergraduate nursing school programs is between 13% and 15%, based on self-reported data shared by several of those schools.
"Compared to 10 years ago, I would say it's definitely on the increase," Kelnhofer says. But "it's gradual – we're not seeing any seismic shifts."
At the same time, there are early signs that the public attention on nurses during the COVID-19 pandemic has helped spark greater interest among more people, including men, in pursuing a nursing career.
Kelnhofer says some of the country's larger nursing schools have reported increases as high as 30% in the number of men enrolling in their programs in recent years. He says media coverage over the past two years that focused on the plight of nurses during the pandemic, along with the economic opportunities within the field due to labor shortages, likely has encouraged more individuals to look at nursing as a possible career.
"As people start to look at employment opportunities moving forward, I think nursing is going to be seen as a very good option," Kelnhofer says.
Jennifer Dotzenrod, associate dean for enrollment management and student affairs for the Johns Hopkins University School of Nursing in Baltimore, says though it's not clear at this point whether the pandemic is directly fueling an increase at the highly-rated graduate school, the proportion of men enrolled there grew from less than 10% in the fall of 2018 to nearly 14% by the fall of 2021.
"We do have more men and women applying than we did a few years ago, and those percentages are going up," Dotzenrod says.
Patrick Robinson, who recently served as provost and senior vice president of academic affairs for Arizona College, which has nursing campuses in eight states, says the school received an increase in inquiries about enrollment and programs since the start of the pandemic, which he attributes partially to the public attention nurses have received for their work on the front lines.
"We're making progress, but not a lot," Robinson says. "There are many schools who really are looking at men as a potential way to increase their enrollment and to increase the diversity of the workforce."
The Nightingale Effect
For more than 100 years, the nursing profession and nursing education have been shaped by the principles introduced by Florence Nightingale, whom many credit for ushering in the modern era of nursing.
But while Nightingale's reforms helped bring about a greater focus within health care on quality and safety, some would contend aspects of her approach – including the exclusion of men from the nursing school she founded in 1860 – helped create the gender perceptions found within the profession. Previously, there had been a long history of men working as nurses, including as part of religious orders.
"Even though she did some really great things, some of the things she did really hurt the nursing profession, which has continued," says Mott, the University of Wisconsin–Oshkosh professor.
Mott, who also serves as president-elect of the American Association for Men in Nursing, says many of the challenges to recruiting more men into the nursing field involve breaking long-held perceptions around gender that have hindered many from viewing nursing as their first career choice. For many male nurses, he says, the job marks a second career after they previously worked in a nonmedical profession.
Over the past few years, Mott says, the American Association for Men in Nursing has worked with middle schools and high schools as part of the organization's "Engaging the Future RN" campaign, with male nurses giving presentations to students about pursuing a career in nursing.
"One of the biggest barriers is men thinking nursing is just not an option for them," Mott says.
Grant, of the American Nurses Association, says increasing racial and gender diversity within the nursing workforce has been a key priority for him since he began serving as president of the association in 2019. The first man elected to the role, he has spoken to kids at grade schools about what it takes to be a nurse, in the hopes of encouraging more boys to think of nursing as an option and helping to break down the stereotype of nursing as a profession for women.
While that stigma has lessened over the years, Grant says the fact that men still make up such a small share of the nursing workforce shows more work needs to be done to improve gender equity.
"I myself am African American, 6 feet, 6 [inches tall], so I'm probably not what you think about as your typical nurse," Grant says. "But when I go into a classroom and someone says, 'He's that big and that tall and he can be a nurse,' maybe they'll believe they can be one as well."
A Pandemic Push?
Public opinion of nurses was already high before the pandemic, but the profession became even more favorable during the first year of COVID-19, as nurses risked their own safety and that of their families to care for patients infected with the highly contagious coronavirus.
In 2020, nurses were once again No. 1 in Gallup's annual ranking of professions for having high honesty and ethics, but received their highest-ever rating at 89%. In 2021, nurses were still first at 81%.
"The pandemic has had kind of a twofold effect," Robinson says. "First, it has highlighted the critical nature of nursing in society in a way that we probably didn't have before, but at the same time, we are losing our colleagues at an alarming rate."
Indeed, hospitals around the country have faced nursing shortages during the pandemic, with heavy workloads and high stress fueling burnout. Survey results released last year by the American Association of Critical Care Nurses found 66% of more than 6,000 nurses said their experiences during the pandemic had caused them to consider leaving the field.
Federal data also indicates the country's number of registered nurses dropped by close to 2% from 2020 to 2021, coinciding with the male share of the profession rising slightly and coming as women in the U.S. workforce have been hit particularly hard by the pandemic.
Still, Grant says any uptick in men enrolling in nursing school would speak to an overall increase in demand seen at many programs across the country over the past several years. According to the American Association of Colleges of Nursing, student enrollment in entry-level baccalaureate nursing programs increased by 3.3% in 2021, continuing roughly two decades of growth.
Hurdles remain to boosting the workforce in general: With institutions strapped by limiting factors like budget cuts, and faculty shortages, more than 90,000 qualified applications for various levels of programs were rejected at nursing schools in the U.S. last year, according to the AACN. Grant says many schools have been forced to put prospective applicants on wait lists for one to two years due to a lack of available educators.
Yet "from what I am seeing and reading and hearing from deans and directors of nursing programs across the country, I don't see the pandemic as being a deterrent," he says. "If anything, it's making men look a little bit more at the profession as people realize what it is that nurses do."
For his part, Caesar – the nursing student in Las Vegas – says the pandemic has motivated him to continue with his studies in order to start working with patients, which he feels will be his way of making a meaningful contribution during the crisis.
"I know I'm on the right path and I'm not going to stop," Caesar says. "The pandemic had impacted me, but in a positive way."
(The story originally appeared in U.S. News & World Report.)