5 Comfortable Shoes Nurses Rely On for 12-Hour Shifts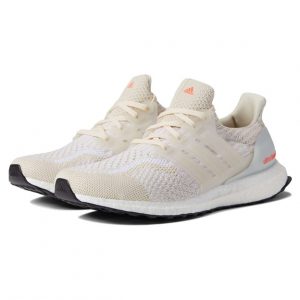 The list of reasons to look up to nurses is endless, but there's one lesson everyone can learn from them: finding a pair of comfortable shoes. Working in a fast-paced medical environment is stressful enough without the added irritation of sore arches, blisters, and swelling. And when it comes to 12-, 14-, and even 16-hour shifts, healthcare workers rely on a trusty pair of comfy, supportive footwear to get them through a full day of standing and walking. We reached out to five nurses to see what shoes they wear for long hours on their feet. Whether you're a fellow healthcare worker or are just looking for some ultra-comfy sneakers, these nurse-loved pairs deserve a spot in your closet. Shop them below.
Adidas Ultaboost 5.0 Sneaker
One of Adidas' most classic styles, the Ultraboost is ultra-cushioned and highly responsive. It prevents the shock from hours of standing on hard surfaces from affecting your joints, returning that energy to give you an added bounce with each step. "These shoes are durable and super comfortable during my 12-hour shifts," said Melissa (@mylifeasanrn), an ER nurse. "They feel like I'm walking on clouds and my feet never get tired." (Fun fact: Carrie Underwood is also a fan of these plush sneakers.)
Crocs Classic Clog
"I'm definitely a crocs girl," said pediatric trauma nurse Ashley (@hello.nurse.ash), noting that these sturdy rubber shoes feel "especially comfortable" on her wide feet. Anyone who's ever stepped into a pair of Crocs already knows the soft, padded sensation that comes with each step thanks to their spacious fit, ventilation holes, and grippy bottoms. "I can work a 12-hour shift and [not] endure back and feet pain when wearing Crocs," Ashley continued, adding that "having the option to wear cute charms on them can make me seem more playful and fun," while working with her young patients.
Nike Air Max 97 Sneaker
Featuring a sturdy leather upper, aerodynamic silhouette, and layers upon layers of lightweight cushioning, this chunky sneaker is traveling nurse Thea's (@purposenursethea) favorite for her 12-hour shifts. "I love how easy the shoes come on and off, [and] the cushion of the shoes provides comfort when standing for long periods of time," she told Shape. Better still, these comfy kicks come in five shades — enough to coordinate with the color of your scrubs.
Brooks Adrenaline GTS 22 Sneaker
Also a favorite among runners, the Brooks Adrenalines are built to support your ankles, knees, and hips with plush, shock-absorbant cushioning and a durable mesh upper. "These are very comfortable" and "have helped my tendency to overpronate so much," said Heather (@naturally_heather), a neonatal ICU nurse. This particular pair was even granted a seal of acceptance from the American Podiatric Medical Association for promoting "good foot heath."
CREDIT: FIGS
FIGS x New Balance 996 Sneaker
"I have been wearing the FIGS x New Balance 996 women's and 327 unisex styles for a couple years now and they are by far the most comfortable shoes for work," Sarah (@shesinscrubs), a nurse in the surgical progressive care unit, told Shape. This ultra-cushy sneaker is a collaboration between New Balance and Figs, a healthcare apparel brand known for its comfy scrubs, so it was made with nurses in mind. "The arch support and long-lasting comfort are a must for 12-hour shifts on my feet! The longest shift I've worked totaled 14 hours and I can say I've never had sore feet after long shifts in these shoes!" Sarah added.
(This story originally appeared in Shape magazine.)