Honoring Heroic N.J. Nurses in the Pandemic: Sandy Foley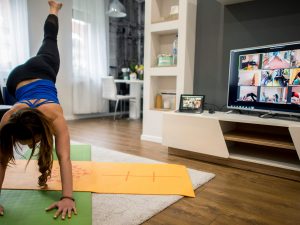 While continuing to teach at William Patterson University, Sandy Foley, DNP, RN, NJSNA Region 1 member, has been busy during the pandemic facilitating the Healthy Nurse Healthy New Jersey (HNHNJ) weekly Zoom meetings and delivering food to ED nurses and making coronavirus masks.
Sandy has used her skills as a certified laughter yoga instructor to facilitate the weekly, well attended, HNHNJ moral support Zoom meetings. As a thank you to Saint Clare's Dover Hospital Emergency Department healthcare workers, Sandy delivered lunch and individually wrapped Easter candy. The nurses in the ED have always been her heroes. Before the pandemic they had been the participants in her doctoral thesis "The Effect of Laughter Yoga and Reducing the Stress of Emergency Department Nurses, Mixed Method Study."
Sandy indicated that they deserve more than what she could give them for all that they have contributed to her life and the lives of their patients. Sandy further explains, "You see, I had been previously employed at the Saint Clare's Hospital ED and know too well what these nurses have always meant to the Dover community."
Sandy also volunteered her time and joined Dr. Anna Patras, a former labor and delivery nurse, in making masks, fitted with a filter which were donated to the frontline medical workers at Morristown Medical Center.