Happy Nurses Month and Year of the Nurse!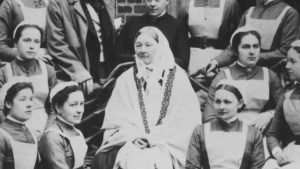 It has never been more important to be recognized for the critical contribution we are making today, and every day, to deliver evidenced-based care to our patients and promote global health. The nursing profession marks a milestone in 2020, as the World Health Organization has declared it the International Year of the Nurse and Midwife in honor of the 200th anniversary of the birth of Florence Nightingale.
During our month-long celebration of Florence Nightingale's 200th birthday, we look back at the life of this inspiring trailblazer and remember how she emerged from a truly challenging situation in the Crimean War with determination, commitment and a true vision for a field of health care that did not even exist at the time. She broke ground, challenged the status quo and campaigned tirelessly to earn respect and legitimacy for the field of nursing, which she held so dear.
Today, as we face challenges and the uncertain future of a global pandemic, let us draw strength and courage from Florence. Let's rise to the occasion and continue her fight by showing the world we are proud to be NURSES and we absolutely make a difference. Remember: nursing is not what we do, it is who we are!
The New Jersey State Nurses Association is proud to be your professional organization and will continue to carry the vision that Florence started 200 years ago. Thank you for your commitment to serve others today and every day.
You truly are the nation's Superheroes!
Sincerely,
Kate Gillespie, MBA, RN, NJSNA president