Gratitude for Long-Term Care Nurses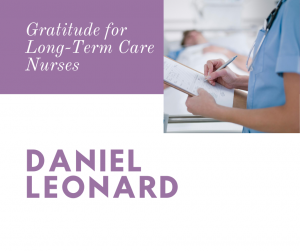 We are nominating Dan Leonard, our infection control preventionist here at Meridian Nursing & Rehab at Ocean Grove. During our journey with COVID, Dan has continuously been on the frontlines educating, supporting and implementing policies that directly affect our residents and team members. He went above and beyond the call of duty in order to keep our residents and staff safe as well as mitigate as much risk as possible.
Dan created a YouTube tutorial for all team members regarding Donning & Doffing PPE. It was informative, innovative and fun to watch. Dan worked closely with our corporate team to help implement enhanced barrier precautions, which added an extra layer of isolation protection while helping converse precious PPE that has been hard to come by.
Dan added a fresh perspective when it came to preparedness with his background in law enforcement. He planned and implemented making our rehab gym an extension of a COVID unit to increase capacity if we had to accommodate for an influx of COVID residents. He expertly worked with all departments in order to create a plan as well as set up the COVID surge beds.
Dan was an integral part of our COVID response team and helped keep our team focused, positive and ready for whatever was to come our way.