Global Insights for Nurses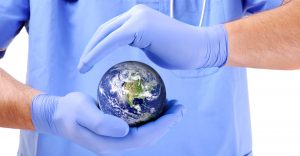 According to The Future of Nursing 2020–2030: Charting a Path to Achieve Health Equity, the COVID-19 pandemic has revealed and amplified significant gaps in the U.S. healthcare system, including race-related health disparities and lack of access to primary healthcare. However, these problems existed before the pandemic. They're the outcome of a system that fails to address social determinants of health (SDOH) and health equity.
In a survey conducted by the American Nurses Association, the American Organization of Nursing Leaders and Johnson & Johnson, more than 4,000 nurses were surveyed to determine the impact of COVID-19 on nurses. The data show that even during the double crisis of a global pandemic and a collapsing healthcare system, nurses created innovative solutions and designed process changes. The summary makes the following recommendations for transforming the U.S. healthcare system:
Identify gaps and appoint nurse leaders today.
Grow the pipeline of new nurses.
Embrace nurse-led experimentation within health systems.
Rethink systems and policies that hinder community-level access to care.
Creating opportunities for innovative thinking and new models of care requires nurses to recognize current gaps and acknowledge the need for transformative redesign.
Based on the findings, high-performing nations share these characteristics, which improve healthcare outcomes and equity:
Healthcare coverage by country
Universal healthcare coverage and removal of cost barriers. The United States is one of the few countries not to offer free, universal, or free and universal healthcare.
Primary care available locally in all communities and for all people
Reduced administrative burdens for pro­vid­ers and patients
Investment in services to address SDOH.
A closer examination of global models that exemplify these features can provide insights for redesigning U.S. healthcare. The first two examples are from high-income nations profiled by the Fund, and the third demonstrates that excellent health outcomes depend on a well-designed—not a well-financed—system.