Strengthening America's PPE Stockpile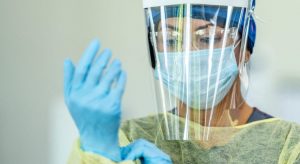 This month, Congress took a positive step in preventing a repeat of the catastrophic shortages of personal protective equipment (PPE) experienced by nurses at the outset of the COVID-19 pandemic. With bipartisan support, the House of Representatives passed H.R. 3635, the Strengthening America's Strategic National Stockpile Act of 2021.
H.R. 3635 would address key vulnerabilities within the federal government's ability to adequately respond to such large-scale public health emergency, particularly with the medical supply chain.
H.R. 3635 would address the issue of expired and unsafe supplies by allowing the U.S. Department of Health and Human Services (HHS) to distribute supplies from the SNS to any federal department or agency, on a reimbursable basis, if the supplies are within one year of expiration and can be replenished within the SNS. In addition, HHS would be required to ensure that supplies and equipment within the SNS are in working order.
Strengthening America's Strategic National Stockpile Act of 2021 would require HHS to develop a transparent process for distribution and use of supplies from the SNS by January 1, 2022. This would include a process for states, localities, tribes, and territories (SLTT) to request supplies; the decision-making process HHS will follow when determining if the request will be fulfilled or denied; and the process for the prioritization of distribution to the SLTT. In addition, the bill would require a monthly report to be provided detailing the requests submitted by SLTT, including the amount of materials and supplies requested, along with the outcomes of those requests. In the event a supply request is only partially filled or denied, the rationale for those outcomes must be included.
There is still work to be done to ensure the Strengthening America's Strategic National Stockpile Act of 2021 is signed into law. This legislation now moves to the Senate where a companion bill S.1974 was introduced in June 2021. As you know, things tend to move slowly in the Senate and they need a groundswell of support from their constituents to pass legislation. Without action, nurses will be no more protected in future pandemics, than we were in March of 2020.