Engage with Federal Lawmakers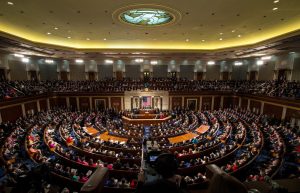 You may have seen your federal lawmakers more visible the past few weeks as they are back in their district for their annual August recess. This is a prime opportunity to interact and engage with them as their constituent.
This is not a vacation for your elected officials, but rather these next few weeks are district work weeks and should be spent (virtually) meeting with constituents like you who have dealt with the brutal realities of COVID-19. During this time, we encourage you, as a nurse advocate, to engage with them, ask what they are doing to help nurses and implore them to act if they are not doing enough from your perspective. Remember, these officials serve constituents like you – hold them accountable.
Please visit our Get Involved page on nursesvote.org (under the Visit a Town Hall or Campaign Event Near You menu) to see if your members of Congress are holding town halls. If it is a virtual event, be sure to engage on issues important to nursing and if it is an in-person event, please be safe and wear a mask.
The How to Get Involved Toolkit is also a great resource for nurse advocates who want to be more active around the Presidential or down ballot elections. Use this resource to find out more on starting a voter registration drive, volunteering to phonebank, hosting a fundraiser and many other Get Out the Vote (GOTV) activities.
Stay tuned for your next opportunity to contact your members of Congress on our next take action campaign and in the meantime, ANA urges all nurses to channel their personal passions and energy to engage in the election and vote, because when nurses vote and speak, Washington listens!