ANA Urges OSHA to Renew ETS Standard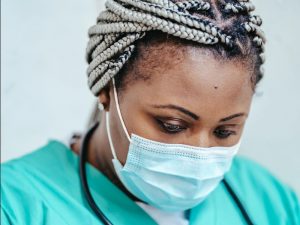 On December 21, 2021, the Occupational Safety and Health Administration's (OSHA) Emergency Temporary Standard (ETS) protecting nurses and other health care personnel from COVID-19 was set to expire. This ETS, issued months prior to the Administration's vaccine mandate, set clear and enforceable requirements for COVID-19 prevention in hospitals, home health, community clinics, and other health care delivery sites. The American Nurses Association (ANA) is urging OSHA to act quickly to renew this ETS, which has provided critical protections for nurses and other health care workers who remain on the frontlines of this persistent pandemic.
"The American Nurses Association has strongly supported OSHA's use of its authority to prevent COVID-19 infection in health care delivery. Prior to the June 21 ETS, nearly a half million people working in health care had contracted COVID-19, and more than 1,600 had died. The ETS set a clear imperative for all health care employers to provide adequate personal protective equipment (PPE), and to observe evidence-based safety protocols such as time off for voluntary staff vaccinations, indoor masking, physical distancing, and safe care of COVID-19 patients," said American Nurses Association President Ernest J. Grant, PhD, RN, FAAN.
"It would be baffling and concerning if OSHA allowed this ETS to lapse as cases and hospitalizations rise and the omicron variant begins to sweep across the country. Nurses are feeling stressed, frustrated, and exhausted from nearly two years of battling COVID-19. They know that the federal government plays a critical role in ensuring their safety. The ETS must be renewed without delay and vigorously enforced. I am also urging OSHA to work with ANA and other relevant organizations to develop and implement a permanent standard for infection control in health care."
The lives of nurses and other health care personnel must not be endangered because policymakers have failed to take the necessary actions to protect them. ANA is strongly encouraging OSHA to safeguard the health and well-being of American nurses and health care workers by renewing the ETS as soon as possible.