ANA Advocates for Booster Shots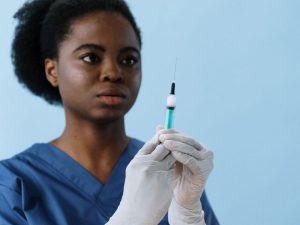 For nearly two years, our nation's physicians, nurses and other health care professionals have seen firsthand the tragic impact of COVID-19 on the patients and colleagues they have lost as well as those suffering from the virus' long-term effects and the families and loved ones left behind.
For people trained to save lives, this moment is frustrating, exhausting and heartbreaking.
As the Delta variant and new Omicron variant contribute to a rise in COVID-19 cases and hospitalizations across the county, we double-down on our call for all eligible Americans to get vaccinated and to get their booster shots. Science has shown that receiving a booster shot decreases your chance of contracting COVID-19, getting severely sick, ending up in the hospital or dying. As families get together for the holidays, now is the time to do your part to protect yourself, your loved ones, and your community.
Protecting yourself against COVID-19, through vaccination and public health measures such as wearing face masks and physical distancing, will also help ensure that our health care system is able to provide care to all who need it. Our member physicians, nurses and other health care professionals thank you and wish you a healthy and happy holiday season.
American Hospital Association
American Medical Association
American Nurses Association