Introducing 'Smart Hospital Rooms'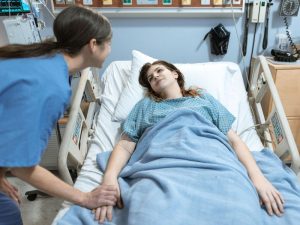 While voice-powered technology in patients' rooms might sound a bit futuristic, apparently it's already been rolled out. Cedars-Sinai installed Amazon Echoes in 100 patient rooms in 2019 and BayCare Health System in the sunshine state piloted the technology in two hospitals the same year, with plans to install Alexa devices in 2,500 patient rooms across 14 other hospitals.
Peachy Hain, executive director of Medical and Surgical Services at Cedars-Sinai, said in a statement that the technology will be a "total game-changer" for enhancing the hospital's experience for patients.
"Voice is intuitive for patients, regardless of age or tech-savviness," Peachy Hain stated. "Since it's so easy to operate, patients can use Alexa to connect with their care team and stay entertained as soon as they settle in, while care providers can streamline tasks to make more time to care for those patients. It's a total game-changer for enhancing our hospital experience."
The Alexa technology that has already been implemented also works with patients outside of the hospital setting as well. By integrating Alexa into their health care systems, some hospitals and health care companies are utilizing the technology to provide services to parents and patients who are looking to make an appointment or wondering what the ER wait time is.
For instance, Boston Children's Hospitals uses a form of the technology to connect with parents of patients for recovery progress updates and schedule post-op appointments. Swedish Health Connect (by Providence St. Joseph Health) uses it to help patients find an urgent care center near them and schedule appointments. And with digital health company Livongo, Alexa can respond with members' last blood sugar readings, track blood sugar trends and relay personalized health nudges.