8 Ways Nurses Can Help the Uvalde School Community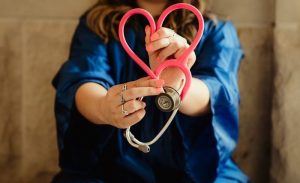 Today, all of our hearts are heavy in the aftermath of the unbearable tragedy of the Uvalde Texas Robb elementary school shooting that took the lives of 19 children and 2 adults. The school shooting was the 27th school shooting this year alone and many of us are feeling utterly hopeless in the wake of what has become a horribly all-too-familiar scene. Here are some ways that nurses can get involved to help.
Pick up shifts at Uvalde Hospital
If you're a travel nurse who is willing to drop everything and head to Texas, by all means, call the hospital or a local travel nursing staffing agency to see if you can help. There are already reports online of travel nurses who have picked up less desirable shifts, such as night shifts or shifts in the morgue.
Currently, Aya Healthcare has at least one open shift in Uvalde. 
Send food to Uvalde Hospital
We'd recommend calling the hospital first, so they can direct you to which floors need food or snacks or if you should pick a different day to avoid overwhelm, but there are sure to be many nurses and other healthcare workers who are working through trauma and may appreciate some ready-made food.
And don't forget those hard-working EMS crews as well as other important professionals, such as those in the medical examination office. The phone number of the hospital is: 830-278-6251.
Send money to the county
The Howard County Sheriff's Office released a statement on Facebook saying that anyone wishing to donate could send a check to: Howard County Sheriff's Office, 3613 W. Hey 80. Checks should be made payable to Uvalde County.
Use Zelle to donate directly to the elementary
You can donate directly to Rob elementary through Zelle at robbschoolmemorialfund@gmail.com or by mailing a check.
Donate to local Uvalde businesses
Undoubtedly, there are businesses run in Uvalde by parents who have lost children and loved ones in the shooting. You can help support their businesses directly so they can stay afloat financially while they take care of family and process their enormous loss.
The Uvalde Chamber of Commerce has a complete list of businesses you can choose from.
Donate directly to the victims' families
This is a GoFundMe account set up by  VictimsFirst, a network of families of the deceased and survivors from over two decades of previous mass shootings, that ensures that 100% of donations go to the families.
Text RESIST to 50409
This free service will provide you with a drafted letter and send a letter to your senators about taking action to pass legislation that could help prevent school shootings.
Donate blood
Even if you can't donate blood locally, blood donations are always needed and necessary. Donating blood is something I've been meaning to do forever, but finally, I took action and it literally took less than 10 seconds to find a blood drive near me through Red Cross, register, and sign up.