5B Screening, Panel Discussion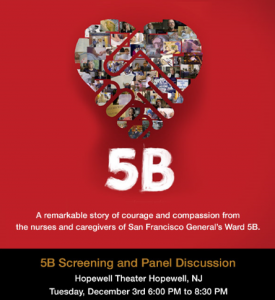 5B is the inspirational story of everyday heroes who took extraordinary action to comfort, protect and care for the patients of the first HIV/AIDS ward unit in the United States at San Francisco General Hospital.
5B is told through the first-person testimony of the nurses and caregivers who built Ward 5B in 1983, their patients, loved ones and staff who volunteered to create care practices base in humanity and holistic well-being during a time of great uncertainty.
Post-screening panel discussion with producer Brendan Gaul and leadership from Johnson & Johnson and the San Francisco AIDS Foundation to discuss current issues in HIV management and treatment.