Legislation Would Put Nurses in Charge of Staffing Levels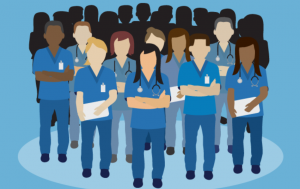 A new legislative proposal would essentially put nurses in charge of nursing staffing-level decisions at hospitals in New Jersey—and possibly other health care facilities—and could help resolve a debate about patient care and workforce needs that dates back at least 16 years.
Introduced last week by Assemblywoman Nancy Munoz (R-Union), a licensed nurse herself, the bill calls for hospitals to establish nurse-led staffing committees that would set specific nurse-to-patient ratios for the facility as part of the hospital's licensing conditions. Among other things, these committees would consider the experience of the nurses on staff, impact of technology and physical layout of the facility, in addition to patient needs.
Munoz said the measure is based on bipartisan federal legislation. Similar plans have been adopted in seven states including Connecticut. Hospital officials and some nursing groups seemed encouraged by this approach, but not all nurses are on board—at least in the bill's current state.