White House Signals the Coming of Annual COVID Shots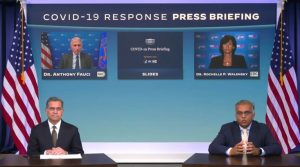 COVID boosters are likely to become an annual affair, much like the flu shot, White House officials said Tuesday.
"In the absence of a dramatically different variant" the country is moving towards a stage where "most of the population" should plan to get an annual updated COVID-19 shot, matched to the strain of the virus that is currently circulating, explained Anthony Fauci, MD, chief medical advisor to President Biden. But he cautioned that more vulnerable populations — those who are immunocompromised, older people — may need additional shots.
Last week, the CDC recommended updated mRNA boosters from Pfizer/BioNTech and Moderna that target both the original coronavirus strain and the currently circulating Omicron subvariants BA.4 and BA.5.
"It is reasonable to expect, based on what we know about immunology and signs of this virus, that these new vaccines will provide better protection against infection, better protection against transmission … and better protection against serious illness," stated Ashish Jha, MD, MPH, the White House COVID-19 Response Team coordinator.
Omicron remains the dominant subvariant, with the BA.5 sublineage accounting for more than 88% of circulating viruses and BA.4 representing more than 11%, said CDC Director Rochelle Walensky, MD, MPH.
"We have a virus out there that's still circulating, still killing hundreds of Americans every day," said Jha, adding that deaths from SARS-CoV-2 could become "vanishingly rare" with the introduction of these bivalent COVID-19 booster shots, as long as people stay up to date on their vaccines" and "get treated if they have a breakthrough infection."
Walensky cited modeling data suggesting that if the uptake of the new COVID-19 vaccine is similar to coverage of the annual flu vaccine, COVID boosters could prevent "as many as 100,000 hospitalizations, 9,000 deaths, and save billions of dollars in direct medical costs." She reported that the 7-day average of daily COVID-19 deaths is about 375 per day, which is higher than the roughly 200 daily deaths reported in the spring, and "far too high for a vaccine-preventable disease." During the week of September 3, more than 63% of hospitalizations were in people ages 60 and older, and 46% of hospitalizations were in those 70 and older, she noted.
With regard to vaccine safety, more than 600 million doses of COVID vaccines have been administered in the U.S. so far, and billions more have been administered globally, said Fauci, under the watch of "robust safety monitoring systems." Also, during trials, more than 1,700 people received bivalent mRNA vaccines "with no additional safety concerns," he said.
Walensky added that "it's perfectly safe and similarly effective to get your flu shot at the same time" as the boosters.
"I really believe this is why god gave us two arms," said Jha. "One for the flu shot and the other one for the COVID shot."
While the team presented a fairly optimistic view of the pandemic's future trajectory, they emphasized the need for additional funding from Congress. Jha described the "impossible situation" a few months ago when he warned that the U.S. might not have enough funding for boosters. In response, the administration pulled resources from other "critical public health efforts," including personal protective equipment (PPE) and COVID-19 testing, he said. (Currently, free at-home COVID-19 tests are on hold as "Congress hasn't provided additional funding to replenish the nation's stockpile of tests," according to the COVID.gov website.)
Jha warned that if there is another "Omicron-like event," the administration won't be able to supply tests or have "an adequate" supply of PPE in the Strategic National Stockpile. "If we get another surge, Congress, likely at that point, will step up," he acknowledged, but cautioned that "it will cost the American taxpayer twice as much and it will be less effective."
(This story originally appeared in Medpage.)