Viral Photo Reminds Us How Hard Labor, Delivery Nurses Work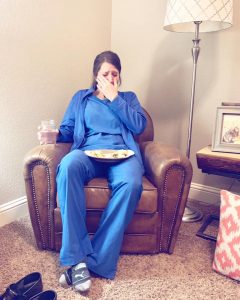 As a labor and delivery nurse, Caty Nixon cares for families in joy and sorrow.
"The good times are so good, and the bad times are heartbreaking," Nixon, from Forney, Texas, told TODAY. "I'm here for all of it."
Last summer, Nixon ended a 53-hour, four-day workweek by delivering a stillborn baby. The 29-year-old kept it together until she got to her twin sister's house. Then, the tears started flowing.
"I was overwhelmed and exhausted," Nixon said. "I just needed that release."
Unbeknownst to Nixon, her sister, Laura McIntyre, snapped a picture of the emotional aftermath. Last week, McIntyre shared it on Facebook, where it has since gone viral, getting more than 13,000 comments.