The State of the Nation's Nursing Shortage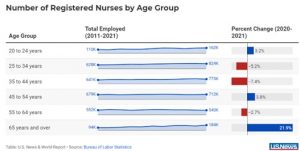 Fueled by factors like employee burnout, an aging population and a dearth of training, states across the country are facing a familiar and common problem: a nursing shortage.
Even before the COVID-19 pandemic began to unfold at the start of 2020, a gap existed between the supply of registered nurses as reflected by federal data and demand through 2030 as projected by a pre-pandemic study from the U.S. Department of Health and Human Services. Once the COVID crisis hit, health care positions were not isolated from sudden job losses, which helped widen the gap between projected demand and the actual number of registered nurses in the U.S.
The HHS study projected that the demand for registered nurses would hit more than 3.6 million by the year 2030. On top of the existing workforce, the field would have needed to add nearly 50,000 new registered nurses each year since 2014 to meet that demand.
The shortage may worsen in part due to who exactly is leaving the profession. Since 2016, registered nurses 25 to 34 years old have accounted for the highest share of the profession by age group. But between May 2020 and May 2021, the number of nurses in that age group declined 5.2%. Those 35 to 44 years old – who make up the second-highest share of nurses – saw their numbers decline at an even higher rate of 7.4%.
Meanwhile – amid concern about baby boomers retiring from the nursing workforce – the number of registered nurses 65 and older hit its highest level yet in data from the Bureau of Labor Statistics that dates back to 2011.
Some have suggested bringing more men into the profession could help combat shortages. Over the last five years, women have consistently made up over 86% of the registered nurse population.
Yet pandemic job losses in health care as a whole impacted women much more than men. In January 2020, women held over 13 million jobs in the health care industry, compared with the 3 million held by men. By April of that year, women had lost 10.6% – or 1.38 million – of those positions, while men lost 5.5% of theirs.
Women's job numbers have been climbing back, but have still not reached pre-pandemic levels, while men regained their pre-pandemic number in 2021 and have surpassed it since. At the same time, men accounted for 13.3% of registered nurses in 2021 – their highest share in at least a decade.
Losses among the ranks of registered nurses last year varied by state, federal data shows. The number of registered nurses per 1,000 people in Nebraska dipped from 12.27 in May 2020 to 10.52 in May 2021. Rhode Island saw the second-largest proportional decline, from 11.08 per 1,000 in May 2020 to 9.91 in May 2021 — losing nearly 1,300 nurses year over year.
Still, some states have seen a rise in their share of registered nurses among the population. North Dakota saw an increase from 12.80 nurses per 1,000 people in 2020 to 15.24 in 2021, while California went from 7.77 per 1,000 people in 2020 to 8.27 in 2021, gaining over 17,000 more nurses over the year – the largest increase across states.
Stakeholders have been trying a number of approaches to combat nursing shortages, attempting to address both recruitment and training issues. Nursing schools in Minnesota announced a coalition in October aimed at attracting more students and expanding equity in the workforce –a move that came on the heels of a 15,000-person strike in September by nurses in the state protesting hospital understaffing.
And with faculty shortages hindering enrollment at U.S. nursing schools, the University of Hawaii reportedly plans to use $1.75 million in state funds to create more than three dozen new nursing instructor positions, with the goal of doubling the number of nursing students accepted. In Virginia, high school students in the city of Alexandria can earn a clinical nursing assistant certification through college credit courses and a partnership with George Washington University, allowing them to get an early look at a potential career.
The White House also has highlighted $80 million available through the Department of Labor's Nursing Expansion Grant Program, aimed at helping "address bottlenecks in training the U.S. nursing workforce."
The Bureau of Labor Statistics projects registered nursing employment will grow by 6% or so in the next decade. Many are hopeful that the effects of the nursing shortage on the health care system will be mitigated amid continued investment in nursing programs and attempts to establish effective retention incentives.
(This story originally appeared in U.S. News.)