Six Low-Cost Action Items To Recruit, Retain Nurses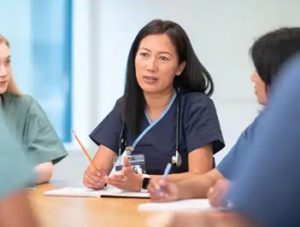 Chronic staffing shortages and high labor costs were the biggest "pressure point" cited by scores of hospital executives across the nation in a recent survey from Kaufman Hall.
While nearly half (46%) of the 86 respondents to the management consultant's 2022 State of Healthcare Improvement Report say that reducing labor costs provides the greatest opportunity for cost reductions, virtually all of the respondents (98%) say they're bumping up starting wages, 84% are offering signing bonuses, 73% are offering retention bonuses, and 47% are paying for more overtime hours.
"The combination of staffing shortages and inflationary pressures have pushed salaries and wages up in all areas, although administrative wages have increased less dramatically than wages for support services and clinical positions," the report says. "Only 2% of respondents had seen administrative wages rise more than 10%; while 68% increased administrative wages no more than 5%."
"In contrast, 19% percent saw increases of more than 10% for support services and 67% saw increases of more than 10% for clinical staff," the report says, noting that one-third of respondents saw wage increases for clinical staff top 15% or more, which is nearly twice the 8.3% rate of inflation in August, as determined by the Consumer Price Index.
Understanding that money has to big a big part of the equation, KaufmanHall also offered six low- or no-cost efficiencies that it says can lower costs and retain staff.
Be flexible: Hospitals are designing scheduling strategies that create flexibility for staff, such as hybrid remote working arrangements.
Streamline recruiting and onboarding:  Get them on board, and get them paid, ASAP. "Organizations that cannot get candidates into their new positions quickly risk losing them to faster-acting organizations.
Use automation: Robotics, artificial intelligence and other evolving technologies provide an opportunity to reduce the burden of manual administrative tasks while improving productivity and nurse satisfaction.
Strengthen mentoring programs and succession planning: Given the historically high turnover among veteran staff, it's becoming more important to identify tomorrow's leaders today, and hone the skills they need to thrive.
Redesign care models: Create efficiencies that eliminate redundancies and waste and that give clinicians more time to interact with patients and to perform "at the top of their license."
Use predictive analytics: Models that can forecast volume and staffing needs help align the workforce and reduce the need for overtime or temporary help. volume modeling and staffing forecasting tools.
KEY TAKEAWAYS
Nearly half (46%) of the 86 respondents to the management consultant's 2022 State of Healthcare Improvement Reportsay that reducing labor costs provides the greatest opportunity for cost reductions.
However, virtually all of the respondents (98%) say they're bumping up starting wages, 84% are offering signing bonuses, 73% are offering retention bonuses, and 47% are paying for more overtime hours.
– John Collins
(This story originally appeared in Health Leaders.)