Tattoo Debate Continues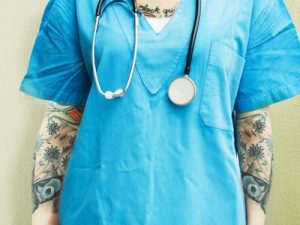 Jordan Miller's mother, Misti, is a nurse. She's performed her role diligently and saved many lives. But after a conversation about some hospitals' conservative attitudes toward her body art, her son was left baffled.
"My mom has more tattoos than I can count and it has never, ever affected her work ethic," he explains in an emotional Facebook post, which has since gone viral with more than 115,000 shares. "Tattoos don't define the person."
Not all of the comments on Jordan's post have been positive, with one saying: "I respect her doing her job so well but have reservations about why she wants to defile her own body. Does that fill a void in her mind about her self-worth? Sad."
"Well spoken!" said another commenter. "I myself have no tattoos but actually enjoy seeing them on nurses as well as a lot of patients that I have taken care of."
Another added: "One of our nurses had her hair dyed different shades of blue and purple. She always looked nice. Recently, they changed our dress code and said that hair can only be natural colors. The patients all loved her hair and were upset when they found out why she had to change it!"
What do you think?