Seton Hall University Offers Basic Health Assessment Refresher Course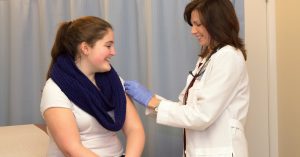 By Lorraine Joyce
Seton Hall's College of Nursing will be offering the Basic Health Assessment Refresher course beginning December 1, 2021 through February 28, 2022. This online program provides an opportunity for registered nurses to further develop and hone basic health assessment skills prior to beginning an advanced health assessment course. Nurse practitioners outside of Seton Hall are welcome to register.
This refresher course involves self-study using a textbook and online course material PLUS practice with a self-selected qualified mentor who is an APRN, MD, or DO and approved by the course coordinator. Course content includes how to complete a comprehensive health history and conduct a physical exam on specific body parts as well as on the neurological system.
The course is taught by Maryanne Barra, D.N.P., F.N.P.-B.C., R.N. and Moira Kendra, D.N.P., M.A., ACNP-BC, R.N., both distinguished members of the Seton Hall faculty who have extensive teaching experience in both clinical and didactic settings.
Course participants can work at an individual pace to complete all work online between December 1 and February 28. At the completion of this program, participants will have learned how to complete a head-to-toe physical assessment in a systematic manner by demonstrating the skills and techniques with their mentor.
To learn more and register, visit www.shu.edu/BHA
Seton Hall University College of Nursing is approved as a provider of nursing continuing professional development by New Jersey State Nurses Association an accredited approver by the American Nurses Credentialing Center's Commission on Accreditation. P#196-10/20-23.