Rider University Honors Persichilli on May 12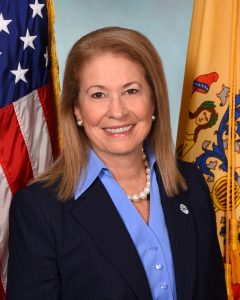 New Jersey Department of Health Commissioner Judith Persichilli will be honored at Rider University's Graduate Commencement exercises on May 12 at Rider University's Alumni Gym, beginning at 6 p.m.
She will receive an honorary Doctor of Humane Letters.
Persichilli has served as the commissioner of the New Jersey Department of Health since 2019. She has led, alongside Gov. Phil Murphy, the state's response to the COVID-19 pandemic.
The Department of Health under her leadership works to protect and improve the health of New Jersey residents, reduce health disparities, improve maternal health, address the overdose epidemic and increase access to health care, according to the statement.
Prior to leading the department, Persichilli served as the acting CEO of University Hospital in Newark, president emerita and president of CHE Trinity Health, president and CEO of Catholic Health East, and CEO of St. Francis Medical Center in Trenton, according to the statement.
She also served as a Rider Trustee from 1999 to 2008.
She was inducted into the New Jersey State Nurses Association Hall of Honor in 2006. She received the 2008 Richard J. Hughes Humanitarian Award, KYW Newsradio Women's Achievement Award, the Edward J. III Excellence in Medicine Award for Outstanding Medical Executive, The Philadelphia Business Journal's Healthcare Innovation Lifetime Achievement Award and the Benemerenti Medal, a papal honor bestowed on her by Pope Benedict XVI, according to the statement. She has also been named to NJBIZ's "50 Most Powerful People in New Jersey Health Care" list and Becker's Hospital Review's "300 Hospital and Health System Leaders to Know" list.
In 2021, the New Jersey Department of Health building in Trenton was renamed the Judith M. Persichilli Building following the passage of enabling legislation in the Assembly and Senate. Murphy signed it into law last November to honor Persichilli's ongoing service to the people of New Jersey during the COVID-19 pandemic.
Persichilli received her nursing diploma from the St. Francis Hospital School of Nursing, a Bachelor of Science in Nursing summa cum laude from Rutgers University and a Master of Arts in Administration summa cum laude from Rider University, according to the statement.