COVID's Other Toll: Mental Health of NJ Nurses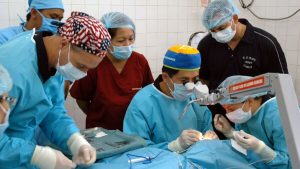 Chris Pease, a nurse at Virtua Health System in South Jersey, kicked her husband out of their bedroom at the start of the pandemic, in March 2020. It was months before she felt safe sleeping beside him again and she didn't kiss him or other family members until that summer.
Many nurses and health care professionals, like Pease who has 38 years on the job, had experienced HIV and other highly infectious diseases. But almost to a person, COVID-19 was different for them, scarier and unknown. They donned protective gear at work, showered after every shift and still feared spreading the virus to their patients and loved ones.
"This one hit differently. We'd never seen a lot of people dying at such a rapid rate — you just see bodies after bodies," said Banita Herndon, a longtime emergency department nurse at Newark's University Hospital. "You could be talking to them today and they could be dead tomorrow."
COVID-19's toll on caregivers
While COVID-19 cases have declined significantly in recent months, the pandemic has taken a heavy toll on the mental health of nurses and other frontline providers. A new Rutgers University study suggests the strain is even worse for nurses of color. Staffing shortages exacerbate these issues, nurses said, pointing to statistics that show stress and exhaustion impacts between 70% and 93% of health care workers nationwide.
Many hospitals have taken steps to better support staff's emotional wellness, and nursing organizations, like Health Professionals and Allied Employees, have worked to expand access to mental health services for frontline caregivers. But leaders said more resources are required to truly meet the needs, which are now emerging in full bloom as the pandemic's impact recedes.
"Clearly mental health issues are enormous right now," said HPAE president Debbie White, a nurse herself. "You can't really deal with issues of trauma and PTSD until the crisis is over. That's how it works. You have to sort of get through the crisis, get through the chaos, and once it settles down you start to experience the trauma you went through."
White and others said the situation is compounded by public — and political — impatience with infection-control measures like mask mandates, which are being rolled back nationwide. She compared nurses to Vietnam veterans coming home from a war everyone wants to forget.
Yesterday's heroes
"Somebody made us heroes (at the pandemic's start) so that helped us a little bit. At least when we were working in the trenches someone appreciated us. But now, it seems like we're not heroes anymore," said Pease, a local chapter leader with healthcare union JNESO. "People forget, there's not as many COVID patients, but we still have to take care of these people."
Doug Placa, JNESO's executive director, underscored this point in testimony he plans to submit next week to the Legislature's budget committees, which are now reviewing the state's $48.9 billion spending proposal for the fiscal year that starts in July. He urged lawmakers to make funding available to support free mental health services for all health workers, sufficient protective equipment and crisis-response training. He also wants workers to be able to take a leave of absence without being penalized.
"The mental health and wellbeing of healthcare workers continues to be viewed as collateral damage, something that became significantly worse and more prevalent during the COVID crisis as they struggled to provide the best care possible and to create a positive healthcare environment despite overwhelming challenges," Placa wrote. "Additional resources put into place would help all healthcare workers better manage anxiety, depression and stress as it relates to workforce trauma."
New Jersey is home to more than 100,000 nurses with active licenses, according to the New Jersey Collaborating Center for Nursing, a policy group housed at the Rutgers School of Nursing. More than one-third consider themselves "not emotionally healthy," according to a survey it conducted during the first few months of the pandemic, while 64% reported burnout and 37% said they planned to leave the profession within the year.
Unrelated research conducted last fall by the nursing school found structural racism increased COVID-19 fears among Black and Hispanic nurses, who are more likely than white colleagues to live in situations where they could catch and spread the virus. Structural racism at work added to their emotional distress, researchers found, putting them at higher risk for anxiety, depression and leaving their jobs.
The racism pandemic
"For nurses of color in our study, workplace racism and COVID-19 represented a dual pandemic; that is, their experiences and worries were synergized to the detriment of their emotional wellbeing," associate dean and professor Charlotte Thomas-Hawkins said when the research was published in March. She urged hospital systems to identify and acknowledge racism, root out bias on an individual and institutional level and to actively defend nurses subjected to racist attacks from patients and families.
To improve mental health and resilience among all nurses, the collaborating center launched the New Jersey Nursing Emotional Wellbeing Institute in January, with help from private funders. The institute has organized virtual group sessions for nurses to share their experience, a "stress first aid" training model to boost teamwork and resiliency, the state's first nurse-to-nurse mental health hotline and other programs designed to support and sustain the workforce, assistant director Jennifer Polakowski explained.
These programs — which Polakowski said have been extremely popular so far — are designed to extend over three years and directly reach thousands of nurses, while benefitting thousands more as the lessons are institutionalized. "We can't let this drop as an issue," said Susan Salmond, executive dean at Rutgers nursing school. "We are going to have another COVID. It might not be COVID, but we're going to have another one of these issues," she said, "and we've got to prepare" by creating a stronger, more resilient workforce.
In February HPAE announced a partnership with the Mental Health Association of New Jersey to expand access for frontline health care workers — and others — to programs designed to help people identify emotional instability and trauma and find ways to better cope with them. "Many members have a lot bottled up in them and that's when it becomes dangerous," HPAE's White said.
Praying and shooting hoops
These workshops have benefitted Joselino Ulanday, a behavioral health nurse at University Hospital, who also uses prayer and basketball to help avoid burnout. His job involves counseling and often restraining combative patients that pose a danger to themselves and staff, a stressful role even before COVID-19 emerged.
"It's just a positive thing," Ulanday said of the group sessions, which he plans to continue to attend. He gently encourages his colleagues to join, something many seem reluctant to do. "I tell my stories, I tell them it's helping me," he said. "They know themselves, they've all been through this (pandemic). You may think you're OK, but you're not OK. We need to talk about it."
Many hospitals have also established programs to support stressed-out staff, but it's not clear how successful these have been. Hackensack Meridian Health, the state's largest hospital system, established a program last year under the banner "even heroes need to recharge" but representatives declined to provide an update on this initiative last week.
University Hospital nurse Herndon, an HPAE local leader, said her Newark facility has done well in assisting employees. Pease, at Virtua, said the South Jersey system has partnered with an established mental health provider to give workers easy access to care and has offered pet therapy, group counseling and other staff perks, like food delivery and visits from ice cream trucks.
White praised the work of Bergen New Bridge Medical Center, the state's largest hospital, in Paramus, which continues to hold wellness workshops for frontline health workers. But generally speaking, "hospitals aren't really doing a good job of addressing all of this," she said, "I don't even know if they've developed systems where they can identify (mental health) issues."
Salmond, at Rutgers, said she hadn't surveyed New Jersey's hospitals but noted that screening and wellness programs are more readily available and increasingly normalized at acute-care facilities, when compared to the past. "There's more action than I've seen in my 50-year career, no doubt about it," she said.
But not all hospitals are succeeding in this quest and nurses are concerned their mental health needs will be forgotten as the pandemic grinds on. "It was nice to get the pizza," Polakowski said, "but we're still here and we still need support."
(This story originally appeared on NJ Spotlight.)