Report: 100,000 Nurses Left Industry During Pandemic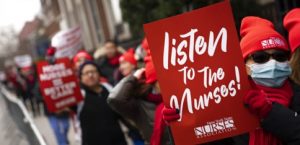 A report from the National Council of State Boards of Nursing indicated that nearly 100,000 nurses left the profession during the pandemic, with more considering leaving.
The report also indicated that about 610,000 nurses intend to leave the profession by 2027, with many citing burnout as a factor. The group expects about one-fifth of all nurses to leave the industry by 2027.
The NCSBN said that 61% of nurses reported an increased workload during the pandemic.
Issues of burnout and fatigue were especially evident among nurses with less than 10 years of experience.
"The data is clear: the future of nursing and of the U.S. health care ecosystem is at an urgent crossroads," said Maryann Alexander, NCSBN chief officer of nursing regulation. "The pandemic has stressed nurses to leave the workforce and has expedited an intent to leave in the near future, which will become a greater crisis and threaten patient populations if solutions are not enacted immediately."
The group behind the report said changes must be made in order to prevent more nurses from leaving.
"There is an urgent opportunity today for health care systems, policymakers, regulators and academic leaders to coalesce and enact solutions that will spur positive systemic evolution to address these challenges and maximize patient protection in care into the future," Alexander said.
The data from the National Council of State Boards of Nursing stands in contrast to federal government data. The Bureau of Labor Statistics expected the field to grow by 6% between 2021 and 2031.
The BLS noted several downsides of the job, however. Many registered nurses work long shifts, often on call or on weekends and holidays. The government also noted that nurses come in "close contact with people who have infectious diseases, and they frequently come into contact with potentially harmful and hazardous drugs and other substances."
(This story originally appeared in Scripps News.)