New Tech Helping Nurses Better Connect With Patients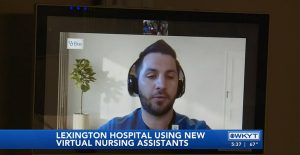 LEXINGTON, Ky. (WKYT) – Since the COVID-19 pandemic began, technology has been improving the health care industry in numerous ways.
CHI Saint Joseph Health in Lexington has created a virtual nurse to provide more personalized care for patients. It's the only technology of its kind in Kentucky.
"It's a great technology, but it's more than a technology," said Anthony Houston, CHI Saint Joseph CEO.
In December, CHI Saint Joseph Hospital in Lexington implemented virtual nursing assistants in 34 rooms in the facility. At the click of a button, patients can be connected with a virtual nurse that can help them at all hours of the day.
The system hopes to help out for many reasons, one of which is the shortage in the nursing field.
"We find that enrollment in nursing schools is down, not just in Kentucky but across the United States," said Melissa Bennett, CHI Saint Joseph's COO and nursing executive.
One of the 10 virtual nurses currently on staff, Corey Ross, says he enjoys his job because it allows him to connect with patients better.
"You get to be face-to-face with your patients and their families. Really, you get to be someone they can lean on and trust," said Ross.
It also allowed him to work from a completely different state but stay connected to a place he loved.
"Unfortunately, I had some life circumstances that I dealt with early on in my new career. They were there just like that and got me remote, and I'm able to now be up here and still work for a company I'm proud to work for," said Ross.
CHI Saint Joseph officials say statistics are showing the patient experience is already improving in just a few months of using the new technology. We're told it will likely expand across the whole Lexington campus in the future.
"I see it going to the rest of our in-patient units and also our procedural areas as well," said Director of Nursing Amanda Anderson.
(This story originally appeared in WKYT.com.)