Registered Nurses' Pay Projected to Increase $13 an Hour by 2033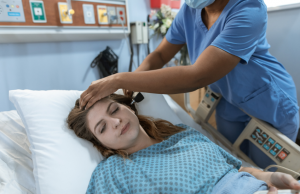 Nurse pay has been on the rise in 2023, and now a projection from telecommunications company TollFreeForwarding indicates these health care heroes are anticipated to earn up to $13 more an hour by 2033.
According to the latest data from the U.S. Bureau of Labor Statistics, the median pay for RNs in 2022 was $39.05 per hour — roughly $81,220 per year.
In its October 2023 "Careers of the Future" report, TollFreeForwarding reported RNs already earn much more than that in 2023, with an average hourly rate of $45.49. After adjusting for inflation, nurses are anticipated to earn $58.31 an hour within the next decade — $121, 284 a year in earnings.
"According to the Bureau of Labor Statistics (BLS), registered nursing is one of the fastest-growing occupational fields in the country," TollFreeForwarding reported. "Moreover, the U.S. is expected to need an additional 193,100 nurses per year over the next ten years. This increasing demand contributes to a projected increase in hourly earnings of $12.82 in 2033 over today."
Globally, roughly 13 million nurses will need to be replaced in the coming years. In a March 2023 report, the International Council of Nurses named the debilitating shortage of nurses a "global health emergency." It is that large gap in available staff that is largely driving the steady rise in nurse pay.
"While there is no single factor that determines whether a salary will increase or decrease, the primary driver is the demand for the job and the number of qualified workers available to fill openings," the telecommunications company reported.
Another important factor is the recent drop in nursing school students.
Last year "saw a decline in nursing school programs for the first time in 20 years, which could drive nurses' salaries higher as more positions open with less qualified candidates to fill them," TollFreeForwarding reported.
(This story originally appeared in AJC.)