Kaiser Deal Offers 21% Pay Hike After Largest Health Strike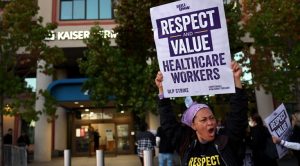 Kaiser Permanente labor leaders said a tentative agreement with the company includes a 21% wage increase over four years, provisions to protect workers from outsourcing, and streamlined training and hiring practices to help boost staffing.
Friday's agreement headed off a second wave of record strikes after months of negotiations. Other portions of the proposed contract include a new minimum wage of $25 per hour for workers in California and $23 per hour in every other state.
Leaders of the Coalition of Kaiser Permanente Unions announced the agreement in a post on the X app, formerly known as Twitter, thanking Acting US Labor Secretary Julie Su, who had visited California to assist in the negotiations earlier this month and this week.
"Millions of Americans are safer today because tens of thousands of dedicated health-care workers fought for and won the critical resources they need and that patients need," Caroline Lucas, executive director of the coalition said in a statement Friday.
Su also applauded the deal as "great news for frontline workers, for Kaiser and the patients in their collective care."
"When workers have a voice and a seat at the table, it can result in historic gains for workers, their employer, and our country," she said in a statement with the coalition.
The vote to ratify the agreement is expected to begin Oct. 18, according to the coalition's statement.
The unions went on a three-day strike on Oct. 4 over filed complaints to the federal labor board, alleging that Kaiser management refused to negotiate fairly with union leaders over the staffing shortage. The 75,000-member strike was the largest ever for the US health-care industry by at least 20,000 workers, according to Bloomberg Law's database of work stoppages dating to 1990.
Kaiser Permanente has 12.7 million members across eight states and Washington, D.C., though its presence is mainly concentrated in the West. Unlike traditional insurers, the health-care consortium operates hospitals and clinics in addition to providing coverage. The unions have said that chronic worker shortages dating back to the pandemic have created unsafe conditions for patients and caused widespread burnout.
Kaiser has maintained that it addressed the shortage by hiring 50,000 new workers over the last two years.
Strike lines formed last week at Kaiser Permanente hospitals and medical office buildings across the country, starting with a small number of workers in Virginia, Maryland, and Washington, D.C., followed by larger populations in California, Oregon, and Washington state.
A potential second strike in November would have once again interrupted nonessential services carried out by support staff, including radiological scans, medication orders, and dental and eye exams.
The Kaiser strike was the latest in a string of high-profile labor disputes fueled by a tight labor market, high inflation, and record corporate profits. Workers have engaged in more than 300 strikes so far in 2023, according to data from the Cornell University School of Industrial and Labor Relations. There were 414 strikes in all of 2022.
"Health care workers and support staff kept our hospitals–and our nation–going during the dark months of the pandemic," President Joe Biden said in a statement on the tentative deal. "They had our backs during one of our nation's toughest times. We must continue to have theirs."
(This story originally appeared on Bloomberg Law.)