Quality of Life: Mind, Body and Spirit
Dear NJNSA friends, 9
WELCOME to Week 2 of Healthy Nurse Healthy Nation – NJ (HNHN-NJ)!
Stay tuned for weekly emails of HNHN-NJ tips, see attached, and for information on how to sign-up and join HNHN-NJ!
Quality of Life: Mind, Body and Spirit is the focus of HNHN-NJ and the theme for March is Nutrition.
The tips for this week are:
Eat food in it's natural form
Eat whole grain foods
Drink plenty of water
Avoid white flour and white sugar
HOPE the attachedcartoon helps you smile/laugh!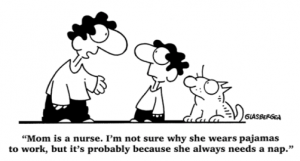 Only good things!
Sue Weaver and the HNHN-NJ team