President's Message: White Coats for Black Lives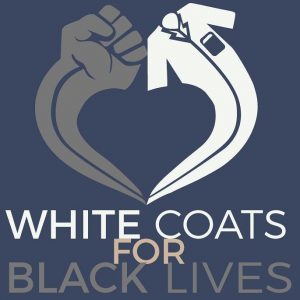 Last Friday, many hospitals, medical practices and health care facilities across the state participated in #WhiteCoatsForBlackLives, a movement for racial justice by members of our health care community.
Many talked about what happened to George Floyd and others whose lives were cut short by police brutality. Many prayed for his family, took a knee in a moment of silence, and showed up in support of the black community. From the pictures I saw of this incredible movement, I was so proud to see that when we are united as one, we can make a difference. When we take a step forward, we can make an impact. I hope we take this movement with us; we take these steps forward every day and that we stand up for equality by speaking out against injustices and disparaging remarks. It's on each of us to be part of the solution.
And civil engagement is critical. Last week, I provided you with links to locate and contact your government representatives. I hope you took the opportunity to reach out to your legislators, either by phone or letter or email. Please continue to reach out to them and let your voice be heard. We cannot let up and we cannot let this happen again. Our leaders can legislate and make changes we need but we as human beings also need to help make our nation a more inclusive, more respectful and a more caring nation. Nursing can lead the way! Let's show them how it's done.
DON'T FORGET to tune into the Healthy Nurse Healthy New Jersey Team "Moral Support" Zoom meetings on Wednesdays at 7 p.m. These weekly meetings provide an opportunity for us to talk about struggles that we as nurses understand. Please visit the Healthy Nurse Healthy New Jersey webpage and our private Facebook page at New Jersey State Nurses Healthy Nurse for more information.
Stand up and be a strong voice!
Kate Gillespie, MBA RN
President, NJSNA