Nurses Wanted!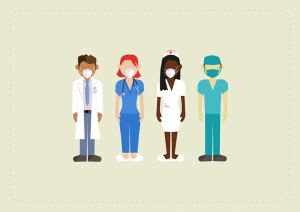 U.S. hospitals slammed with COVID-19 patients are trying to lure nurses and doctors out of retirement, recruiting students and new graduates who have yet to earn their licenses and offering eye-popping salaries in a desperate bid to ease staffing shortages.
With the virus surging from coast to coast, the number of patients in the hospital with the virus has more than doubled over the past month to a record high of nearly 100,000, pushing medical centers and health care workers to the breaking point. Nurses are increasingly burned out and getting sick on the job, and the stress on the nation's medical system prompted a dire warning from the head of the Centers for Disease Control and Prevention.
Governors in hard-hit states like Wisconsin and Nebraska are making it easier for retired nurses to come back, including by waiving licensing requirements and fees, though it can be a tough sell for older nurses, who would be in more danger than many of their colleagues if they contracted the virus. Some are taking jobs that don't involve working directly with patients to free up front-line nurses.
Iowa is allowing temporary, emergency licenses for new nurses who have met the state's educational requirements but haven't yet taken the state licensing exam. Some Minnesota hospitals are offering winter internships to nursing students to boost their staffs. The internships are typically offered in the summer but were canceled this year because of COVID-19.
Wausau, Wisconsin-based Aspirus Health Care is offering signing bonuses of up to $15,000 for nurses with a year of experience.
Hospitals also are turning to nurses who travel from state to state. But that's expensive, because hospitals around the country are competing for them, driving salaries as high as $6,200 per week, according to postings for travel nursing jobs.
April Hansen, executive vice president at San Diego-based Aya Healthcare, said there are now 31,000 openings for travel nurses, more than twice the number being sought when the pandemic surged in the spring.