Nurses Print Patients' Final Heartbeat for Loved Ones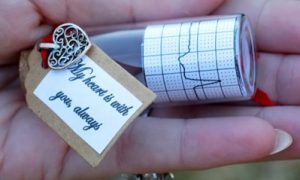 WEYMOUTH, Mass. − When her father-in-law died at South Shore Hospital in August, Lara Brait's family received a small but meaningful piece of comfort from the nurses: a strip of paper showing a readout of his last heartbeat in a tiny bottle.
"Death is so final, and when you walk out of the room, it's the last time you see your loved one," Brait, of Marshfield, said. "To have the nurse give you a piece of something like their actual heartbeat is so special."
It's been somewhat of a tradition for South Shore Hospital critical care nurses to give a small printout of a patient's last electrocardiogram reading to relatives and friends who are at the hospital. Michelle Peterson, a critical care nurse, said they typically put the small piece of a paper inside a vial used to draw blood.
But Peterson said the act of kindness fell by the wayside during the COVID-19 pandemic, when the hospital was inundated with sick patients and family members weren't allowed to visit or be there for their loved one's final moments.
The tradition resumed once visitors were allowed inside again, and the nurses have a new special touch.
Peterson said she was training a new nurse over the summer and showed her how she would print out the strips of paper for families. The new nurse said she had small glass vials with cork tops at home that would be perfect to hold the paper, so she brought them in. The nurses then added heart-shaped charms and a tag that read, "My heart is with you always."
Peterson said the keepsakes soon became commonplace, and the hospital starting buying the supplies for nurses to make them.
"It's been really well-received and the family members usually burst into tears and are very happy. It's been really nice," she said. "It's the one thing that gets them to smile in a difficult moment."
Peterson said the nurses have made hundreds of them, often making many for one patient if family members are in the hospital room.
"It's a reminder that the life and memory of their loved one is important," she said. "It's little bit of closure. It's helpful as someone goes home and their family member isn't going with them."
Brait said it can bring attention back to the family and away from the numb feeling of being in stark, bare hospital room.
"It brings a really nice human aspect to it and shows that the nurses and doctors care," she said. "It's a nice touch."
(This story originally appeared in the Patriot Ledger.)