Minnesota Lawmakers Introduce Bill to Keep Nurses From Leaving Profession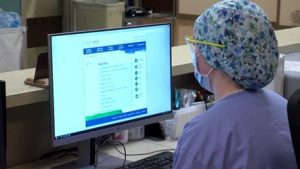 A bipartisan group of Minnesota lawmakers announced legislation designed to keep nurses from leaving the profession, sounding the alarm about a ballooning "care crisis" impacting patients.
The "Keeping Nurses at the Bedside Act," authored by Sens. Erin Murphy, DFL-St. Paul, and Jim Abeler, R-Anoka, requires that all hospitals create committees so direct care workers and nurses can weigh in on staffing workloads on a hospital-by-hospital basis. Those plans would be made public, and the Minnesota Department of Health would grade for compliance.
How many patients a single nurse cares for were among the sticking points during contract negotiations between Minnesota Nurses Association and hospital leaders, which ultimately lead to the largest private-sector nurse strike in U.S. history last fall when 15,000 nurses protested working conditions and wages.
"We can't continue to build a pipeline and have nurses coming into a system that burns them out and sends them out," said Murphy, who is also a registered nurse. "Instead, it is time for us to do what they have asked us to do — to put in place the conditions, so they stay in their jobs."
The proposal also includes funding to expand mental health programs and student loan forgiveness for nurses.
In a statement, the Minnesota Hospital Association expressed support for those provisions, but rejected the staffing plan requirement, saying it would "penalize" hospitals and health systems.
"Minnesota's hospitals and health systems are already managing an unprecedented crisis in workforce shortages, financials, volumes, and discharge backlogs," the Hospital Association statement reads in part. "Introducing the unnecessary mandates called for in this bill on hospital operations will inevitably lead to unit closures, rising costs, longer wait times for patients, and the loss of vital services that communities rely on."
Mary Turner, president of the Minnesota Nurses Association, said some unionized hospitals already have similar committees, but this would set a standard for all hospitals and adds a layer of accountability. Under the bill, hospitals would also be instructed to publish wait times in their emergency departments.
Registered nurses rank as one of in-demand jobs, according to the Minnesota Department of Employment and Economic Development. A 2021 survey of health care workers from the Minnesota Department of Health had 19% of registered nurses respond that they are considering leaving the profession in five years.
Turner, an ICU nurse at North Memorial, added that the number of forms nurses in the union submitted to managers expressing concern over unsafe staffing rose by 7.4% last year.
"When patients walk into a Minnesota hospital, they shouldn't be wondering if the hospital will have only half of the nurses they need to provide the care patients expect and deserve," Turner said.
The bill passed out of the Minnesota House, led by Democrats, last year. It didn't advance in the GOP-controlled Senate at the time, but Murphy is confident it has the votes to pass this year.
(This story originally appeared in CBS News.)