Nurses Give EHR Usability an 'F' in New Study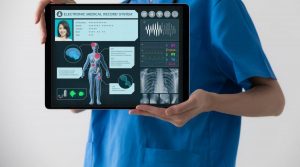 A study published this week in the Journal of the American Medical Informatics Association found that more favorable electronic health record (EHR) usability scores are associated with lower odds of burnout–and those usability scores have tanked.
Researchers found that among 1,285 nurses who responded the survey about usability and burnout the mean nurse-rated EHR usability score was 57.6.
The research team categorized this with a grade of "F."
WHY IT MATTERS 
EHR usability has been found to be a source of frustration for physicians, but less is known about perceived usability among nurses. The study team–comprising researchers from the Yale School of Medicine, the Mayo Clinic, the University of Virginia School of Nursing, the American Nurses Association and the Stanford School of Medicine–sought to change that.
Researchers noted that nursing is the health care profession with the largest workforce, meaning high burnout rates are "significant and troubling."
"Indeed, burnout has been associated with lower job performance among nurses, lower patient satisfaction, leaving patient care tasks undone or incomplete, and poorer patient outcomes, including higher mortality rates," in addition to lower job satisfaction and higher rates of attrition.