Nurses Facing Violence Crisis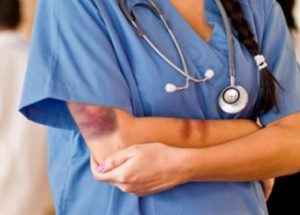 In the earliest days of the pandemic, nightly celebrations lauded the bravery of frontline health care workers. Eighteen months later, those same workers say they are experiencing an alarming rise in violence in their workplace.
In September, 31% of hospital nurses surveyed by National Nurses United said that they had faced workplace violence, up from 22% in March.
Though several states, including California, have rules to address violence in hospitals, National Nurses United is calling for the U.S. Senate to pass the Workplace Violence Prevention for Health Care and Social Service Workers Act, which would require hospitals to adopt plans to prevent violence.
The federal bill, which passed the House in April, aims to extend that protection to health care workers nationwide.