Nurse Residency Program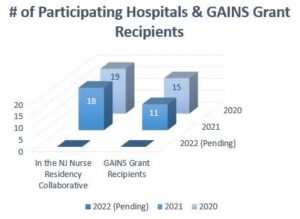 NJCCN Welcome Salem Medical Center and University Hospital. There are now 20 hospitals participating in the Nurse Residency Collaborative. As of May 2022, NJCCN has registered more than 1,000 residents. The collaborative aims to increase the use of standardized, high-quality nurse residency programs across the state through the implementation of the Vizient/AACN Nurse Residency Program. Visit the website for more information.
Please contact Edna Cadmus at ednacadm@sn.rutgers.edu if you are interested in joining the Collaborative.
New Jersey Nurse Residency Collaborative Members