Nurse Invents N95 Mask Preserver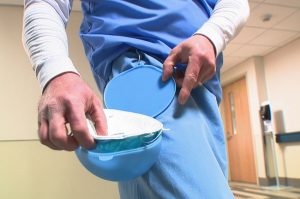 "Last July, in the middle of COVID, I noticed that we didn't have a safe place to store our N95 masks and our masks were getting crushed and soiled, people were leaving them on the desk," said Timothy Aurelio, who has been an emergency room nurse at Roger Williams Medical Center for more than 25 years. "This is how I first developed the idea—if a security guard had his N95 in a brown paper bag and it was intertwined in his belt. And I said, 'What is that?'"
So, he said, he drew up a plan, reached out to an engineer, and came up with a portable N95 mask preserver that you can attach to your scrubs or pants or leave it in on your desk.
"It's medical grade plastic—the same grade plastic, the same material that's used for our hospital syringes and it also has an additive called WITHSTAND, which is an antimicrobial, anti-fungal, anti-mold and anti-mildew," said Aurelio.
All of this, he said, protects the mask's integrity and ensures it doesn't get contaminated or crushed.
This N95 mask preserver is washable and durable and is made in Massachusetts. They sell for $15 each and there are special deals for hospital systems.